Do you fancy yourself as a writer? Then this post is for you. Writing can be a genuinely nice side gig, once you craft out your skills and develop a good system.
Freelance writing can be a way to earn some extra cash each month or if you really hone and perfect your art then you can turn this into a full time income stream.
I am going to show you several websites which will pay you to write for them. They will have different ways of earning so you will have to decide which method is best for you.
What do I mean by that?
In summary there are three different paying formats:
Pay per article
Pay per word
Pay per views/shares
Some quick points about getting started.
Obviously, you need to have a basic grasp of how to write and construct an article. Your grammar and spelling will also need to be spot on. Some of these websites will be getting hundreds of submissions each month so you need to make sure yours stands out.
English will be the preferred language for most of these sites, but that does not mean other languages are not welcomed, they will be in some niche articles. In fact, this may actually work in your favour if you are able to write in more than one language.
I will link out to a varying range of sites with different subject matters in this post, but don't worry I will also put out some other blog links at the end so there will be something for everyone.
So, with the basics covered let's get to the websites:
Chicken Soup For The Soul – Heart-warming stories, true stories, even poetry. They pay up to $200 per accepted submission.
Readers Digest – Short stories submission, any true story about you. If accepted for publication they pay you $100
Woodworking Magazine – This site is self-explanatory. It wants articles on woodworking as a hobby or career. They encourage new people to the craft to submit too, even if you are not a pro! Pay up to $250 per 600-word article if accepted.
The People's Friend – Anything and everything lifestyle magazine. They start off paying $80 per successful submission but your fee rises to $100 after 6 accepted submissions. They even have a short poetry section where they pay $15 per poem.
One Story – Big stories, any literacy between 3000 and 8000 words will be considered here. Any style as long as they are good enough. Well worth a punt if you have a few pieces of unpublished work lying around as they pay $500 for any they accept.
The Arcanist – Flash fiction and sci-fi short stories. Anything under 1000 words is considered. Pay is $50 per successful submission.
Flash Fictions Online – Another short story website that pays its contributors $60 for fiction works.
The Stay At Home Mum – Looking for Mums to write about various topics around family life, meal plans, saving money, family trips etc. They pay $50 per article.
The Green Parent – Keen on articles written in the first person about real life experiences. Topics tend to be on family life and simple living. Pay is $75
Writers Weekly – This site is aimed at freelance writers who want to share their knowledge and experiences. They pay $60 per article.
The Barefoot Writer – Another site for writers that will pay writers to write about writing! (That was a mouthful!) They pay between $100 – $300 per article.
Listverse – This site likes articles to be in list format – So Top 10 Ways To….. etc. You have to build up a reputation before you start getting paid though. But around $100 if accepted.
Asimov's Science Fiction – Pays around 8c per word and like short sci-fi stories up to 8000 words. They consider all levels of author, whether you have had pervious work published or not.
Fireside Magazine – A Kickstarter funded magazine which pays writers up to 12.5c per word.
Income Diary – This is a site that is looking for writers in the digital marketing space. Pays up to $200
Brokerage Sites That Pay Per Views/Shares
These sites will pay out an amount depending on how successful the post is. You get a share of the revenue the site makes is one model. Check these out but do your homework first if you do not think this model is for you.
Text Broker – This site offers up writing jobs and pays based on the quality of your work. Takes a look at everyone from beginner to experienced professionals.
Medium – This site is very much on a pay per view basis. Check it out.
Let The Work Come To You
There are a few sites where you can simply place your writing gig and wait for the work to come to you.
Fiverr – Don't be fooled by the name anymore. People are making huge money from this site now as writers. They have changed the pricing structure so you can start out with a basic gig for $10 and go all the way up to $100's for your top end work.
People Per Hour – If you are putting your services on Fiverr then you really should be putting it here too.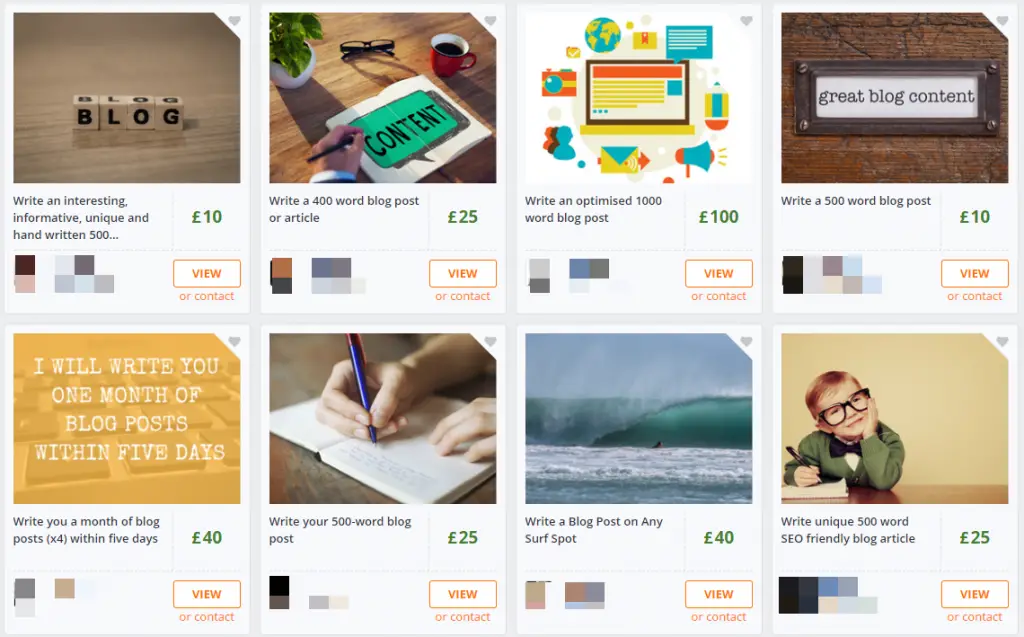 Writing Job Boards
These require you to pitch your services to companies that require writing work. Often, they can be a race to the bottom to tread with caution.
However, you can build good working relationships with clients here and then sort out monthly or even permanent contracts between yourselves.
Further Reading
Maybe you would like to start writing your own blog first before you take the leap into the world of freelance? If so then head over to my videos on how to build a website and set up a blog here.
Do you already have a freelance writing career? Or, do you write as a side hustle? I would love to talk with you about it and have you on the blog for a chat!
Send me a message on my Instagram and we can arrange a chat!