If you sell any physical products online then you may have heard of Amazon FBA. Basically, like eBay, it's a platform for you to sell your goods, either as resellers, wholesale, or even your own private label products.
It can be a very lucrative platform if you want it to be. Or, it can be a very nice side income stream as many people use it for. I know people who make a steady £200 a month using this, I also know people who are full time making £7000 a month.
I am somewhere in between 😉
For those who know me, or if you've ever visited the blog or follow me on Instagram you will know that one of my business side hustles is to resell goods I pick up for a lower cost elsewhere.
FBA means Fulfilment By Amazon, this basically means they take care of everything for you post-sale. So, after its sold, they will pick the item, pack it and dispatch it for you – all in Amazon packaging and also with the benefits that Prime members get.
Below is the flow of how it works.
Throughout this blog post, I aim to show you how to get started with Amazon FBA too and I will also provide a step-by-step guide on how to send your first box of goods in.
In this blog post we will cover:
What are the benefits of Amazon FBA?
How much does it cost?
What metrics can I use to know if something will sell?
How to send your first box in?
Conclusion & Wrap Up
What Are The Benefits of Amazon FBA?
For many people the obvious perk of selling products through Amazon FBA is the fact that you don't have to store products in your own home, also unlike eBay, you don't have to spend as much time listing your product. Often products on Amazon require no pictures at all as you essentially piggyback other listings.
Other perks include Amazon's discounted shipping rates, if you do FBA you are available to all the Prime users on the platform. They get discounted shipping so you can capitalise on this too by selling your products to them.
So you can source your stock – however, you want whether it be from charity shops, car boots, or wholesale and then send it in to Amazon for them to sell it and take care of the rest.
How Much Does Amazon FBA Cost?
Obviously for all their efforts, the packing, shipping, and storage they take a fee. This section will outline the costs to see if it's for you or not.
For starters, a pro account will set you back £30 a month. There is one other option, you can choose a basic option which rather than charging a monthly fee they charge a £1 per sale. This is in addition to the FBA fees per sale.
The FBA fees are broken down per category, weight, and size of an item.
Here are two examples of the fees after a sale has been made:
(Both of these are purely random things I have been scanning recently, I am not suggesting you get these, although the board game is a nice seller!)
The first one here is a PlayStation game.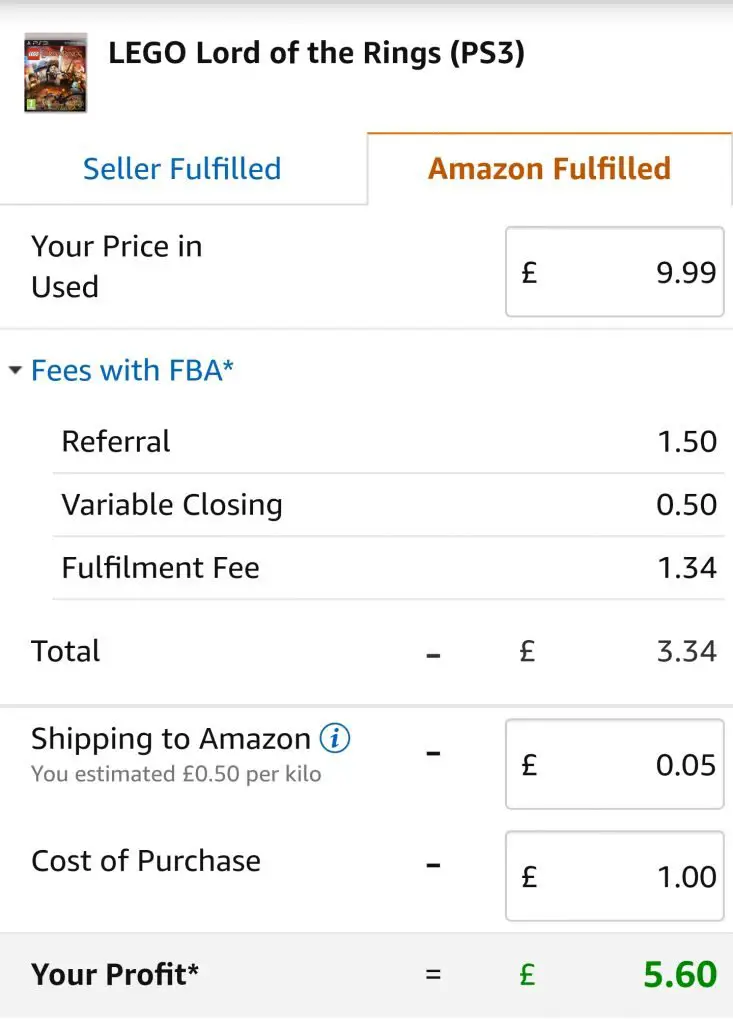 So, you can see if I sold this for £9.99 I would make a profit of £5.60 if I bought it for £1.00.
The total Amazon fee is £3.34. So that is about 33%.
The second one here is a board game.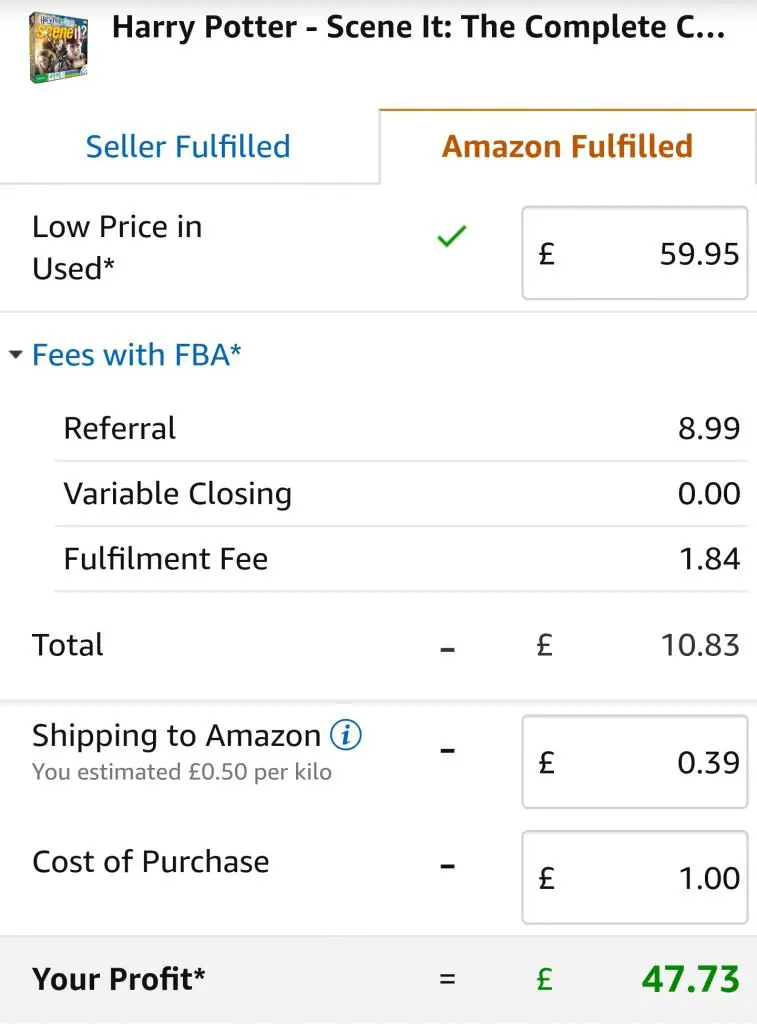 So here if I had sold this for £59.99 I would make £47.73 profit after paying £1.00 for it.
The Amazon fees would be £10.83. This works out at 18% of the sale price.
Note: On both, they include a shipping to Amazon fee. This will be explained later.
So you can see that different categories and products have different fees. Some of you may think these fees are high but I will say this.
You are tapping into Amazon's MILLIONS of customers.
They store all your stock for you.
They pack and ship your sales for you. No trips to the post office for you.
They deal with any returns.
Before we continue here are some other ways you can make money from Amazon:
Anyway, back to the post.
For me, it's a fair price considering all you need to do after you have sourced your products is put them in a box and send them in.
That is not all though. On top of the storage fees, there are Long Term Storage fees. These are settled by the size of storage you are taking up x the length of time it has been there.
I am not going to go into too much detail on this but be aware if your products stay in the warehouses for over 1 year will get billed for this. Hopefully, the next section of the guide will help you avoid this fee.
How Do I Know My Products Will Sell?
Obviously for Amazon FBA to be successful for you have to make sure your products sell! This section will show you can make sure you pick stuff that is going to sell and not fall into the trap like many people do (myself included ) make.
When I first started I would send virtually anything in! I am way more selective now.
So – I am assuming you have an account setup. If not head over to Amazon FBA and get set up when you are ready.
Next up you'll need some form of an app to scan your products. With books, media, toys, and other electrical goods if they are boxed you can simply scan the bar code and this will give you a whole host of information.
There are a few apps you can use for this, but for the purpose of this guide and as it is intended for new starters we shall use the Amazon Seller App. This is a free download – go and grab it once you have set up your account.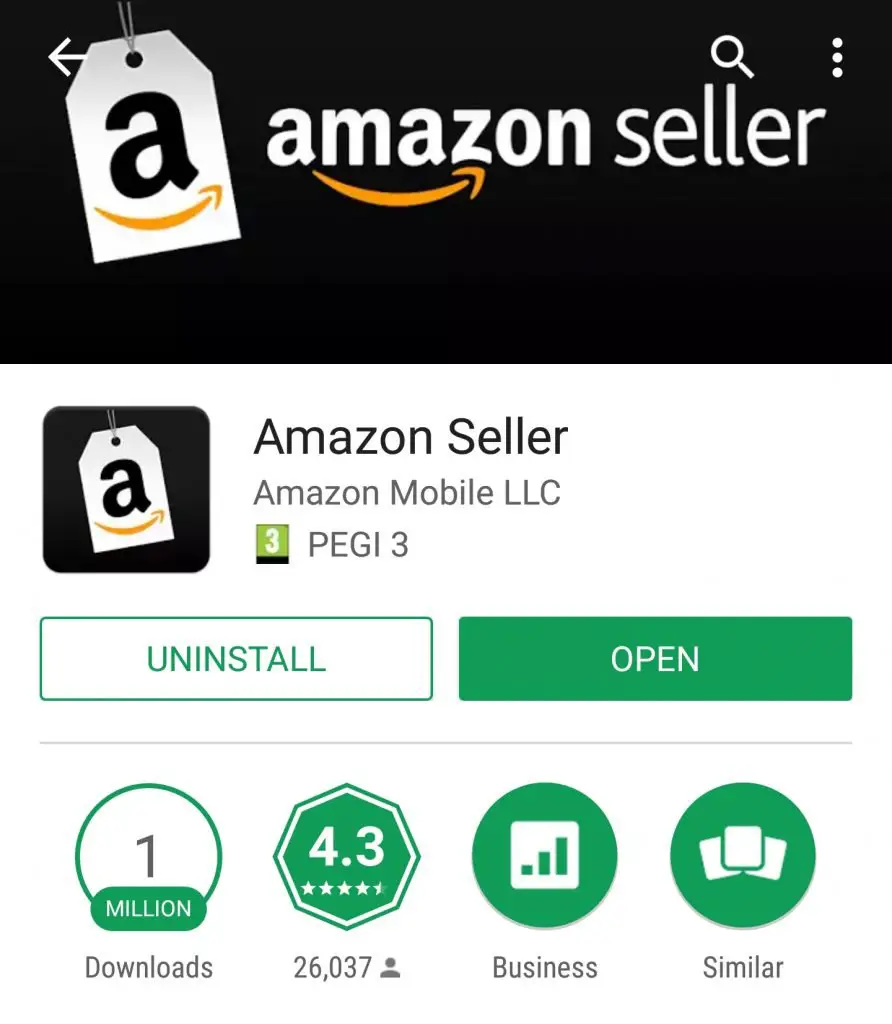 So once you are all set up you can start to source products. Open up your Amazon Seller app and scan some bar codes, if you have never done this before you'll probably go around your house first scanning everything to see if you can send it in to sell!
I can't emphasise this enough. Go and scan some bar codes to get a feel for the app. You need to click the camera icon in the top right corner to open up the scanner. (You also need a scanner compatible phone, most are these days)
Certain categories like clothing, jewellery, and many others need approval before you can sell on them. Stick with the ones that are open to everyone to begin with.
If you want to sell clothes, you may like my post on How I Sell Trainers on eBay.
But just because it has value does not mean it will sell. Each category has a rank of all the products within that category. This changes all the time – every time a product is purchased the rank will change.
I am not an expert in Amazon rank but I have a few rules I follow. I tend to aim for the top 1% of any given category. Let me explain that a minute – books for example at the time of writing this has 59,531,361 titles in the category. I usually won't buy a book over 600,000 rank, this is roughly 1%….
But – even with sticking with this method you are not full proof. Obviously the lower the rank the better chance you have of something selling.
If you want to go one step further you should analyse the product on other websites which will give you far more sales data.
For this I use a website called CamelCamelCamel.
An alternative to this site is a site called Keepa – both do the same thing.
For this example and tutorial, I will use Camel.
Let's use the two examples above to show you the data of sales.
Lego Lord of the Rings on the PlayStation 3
Here is the 3-month data screenshot.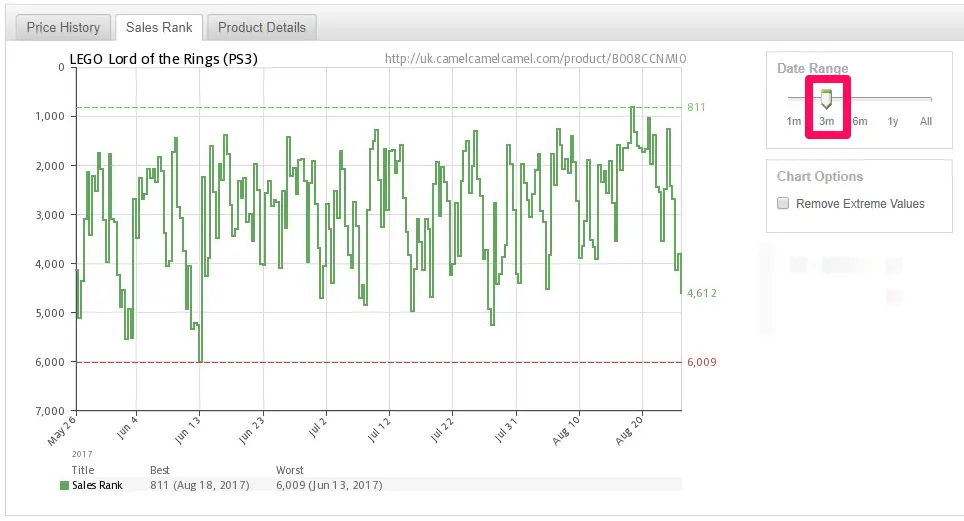 If you have never seen one of these shots of the data before I can tell you this is a very good sales chart. It shows that the product is still selling very well.
Let's narrow it down even further and go with the 1-month data chart.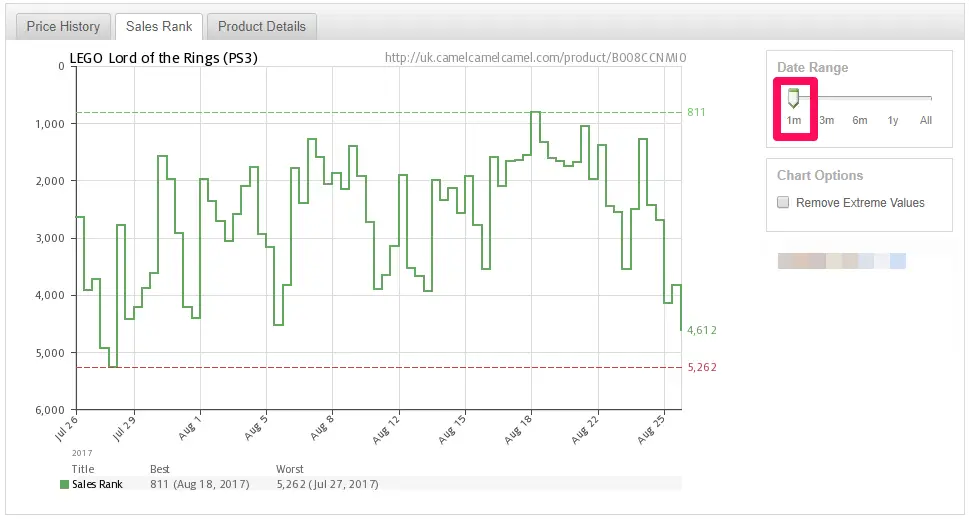 Here we can see a bit clearer. Essentially what you are looking for is a spike in sales rank. Look at the chart, the figure on the left is sales rank, so this game has a rank which jumps between 5000 and 1000 roughly. Each "jump" or spike in rank is a sale. So you could say from looking at this chart that this game sells about 13 copies a month. It is difficult to put an exact number on it but that is the major spikes I see roughly.
Like I say, I am not an expert but this is how I follow them and I know it is there or thereabouts.
You will see the difference in the next chart.
Harry Potter Scene It Board Game
Here is the 3-month data screenshot.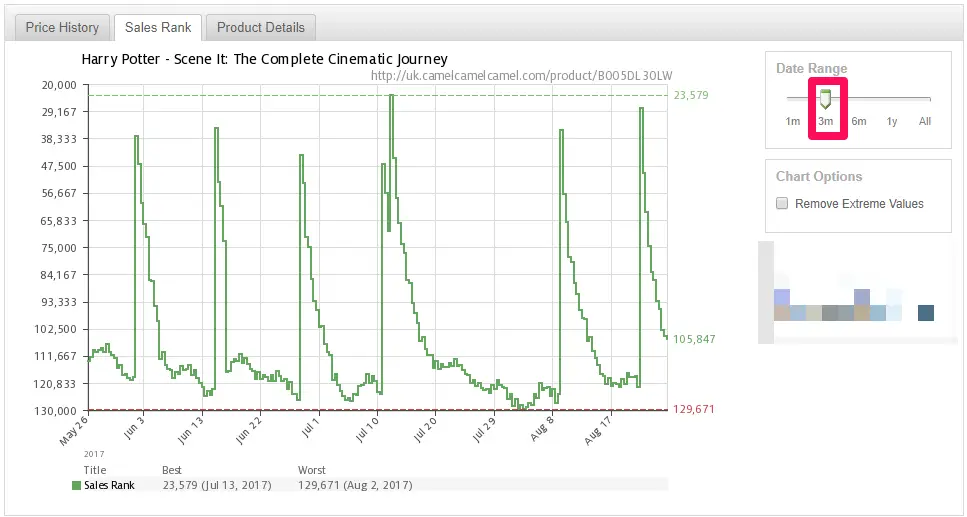 This is a much easier chart to read. You can see exactly that is has sold 7 copies of the game. Some may say only 6 but I think on July 10th plot and just after there are 2 sales there.
So – would you send this in?
Of course, you would. It is selling 6 copies every 3 months. So, even if your copy sits in the warehouse for a month or two if it is priced correctly then you know it will sell eventually.
Here is the 1-month chart.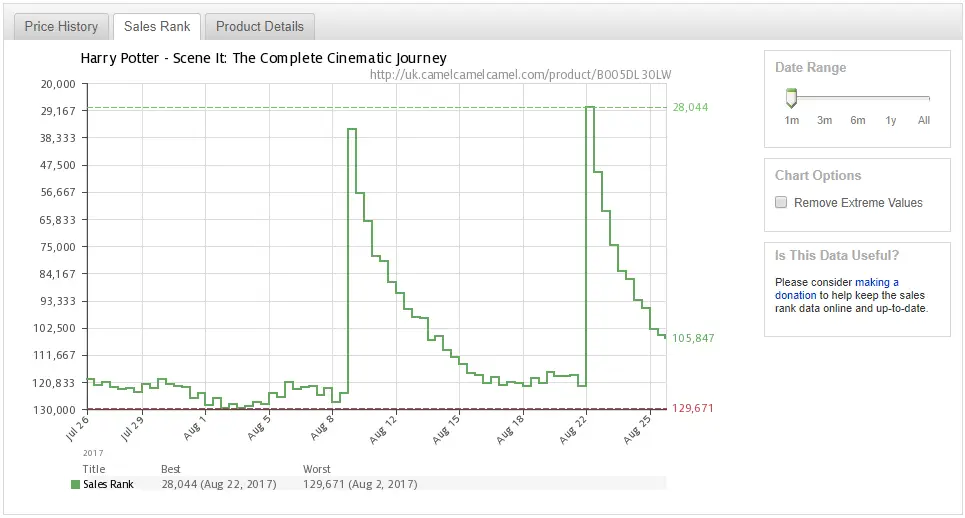 As expected really – the 1-month chart shows a couple of sales. But, if you have picked this up for cheap and you are going to sell it for £50 are you willing to let it wait for a while until it sells?
Yes, you will. You have done your work, your work was to put it in a box and send it in. Just wait now until it sells.
In this particular example, I would expect this rank to go even lower (more frequent sales) as Christmas approaches.
I could write a whole book on sales rank alone and what to sell and what not to sell but I can't go into it here in too much detail. This is meant to be an entry-level blog post (or mini-course) and this at least will give you an insight into sales rank.
In a nutshell, if you are unsure of sales rank, then check it on the website I have suggested above.
Plenty of people I know use different apps and products than the two I have mentioned above. If you prefer a different setup please mention it in the comments below.
How To Send Your First Box In To Amazon FBA?
So hopefully by now you have scanned a few products and you are familiar with sales rank a little and now you want to get a box sent in! Well, this section will show you exactly how to do it.
After you have logged in to your Amazon seller account open your inventory.
Click on manage inventory.
Note: The products used in this demonstration are not guaranteed to sell quickly or at all. I have used my best knowledge to ensure they will sell for me for profit but there are no guarantees. Do not copy these products thinking just because I am selling them that they must sell. Do your own research prior to sending anything in.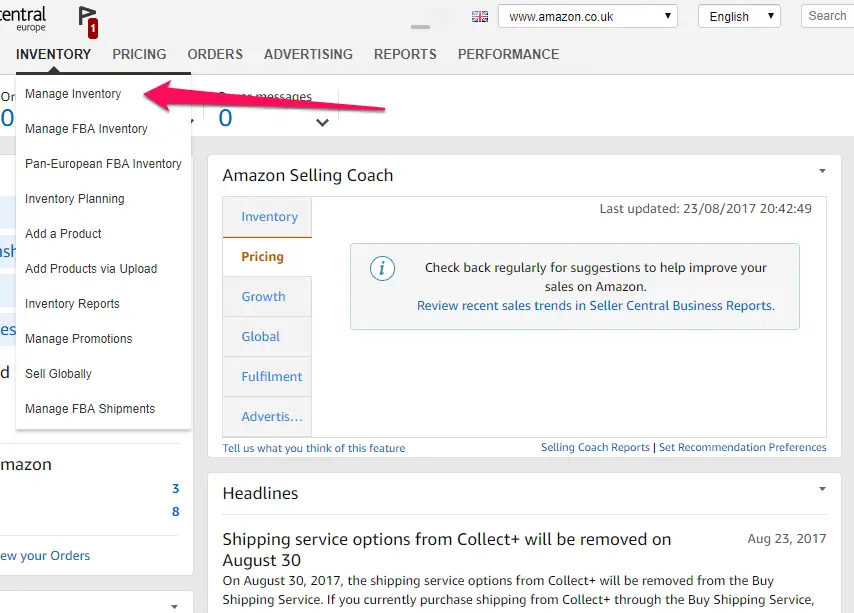 Then click on "Add a Product"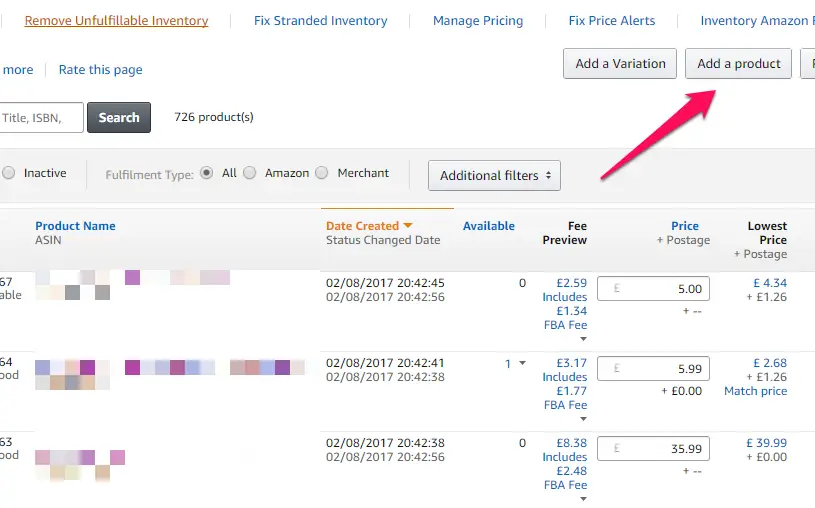 Here is where you can enter the bar code number of your product. If you are going to make a serious go of this you will want to get yourself a USB bar code scanner to speed things up. Here is a link to the one I use….
Esky 2.4G Wireless Handheld Barcode Scanner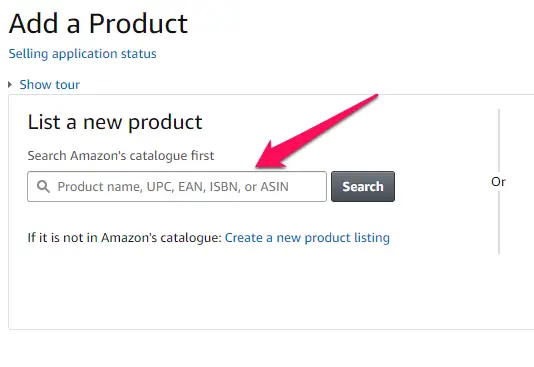 Once you have entered the bar code click on the "Sell Yours" button.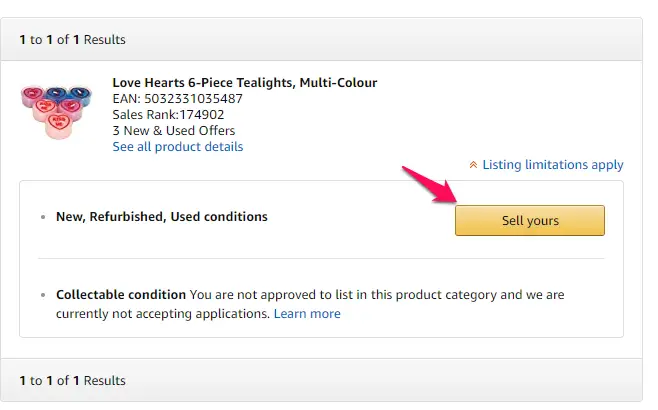 Here you can enter the price and condition. This product is new and sealed so I can list it so.
Warning: Do not list items above their current condition. Sounds obvious but people still do it. Especially books, even if you have purchased a book from a shop I personally would still not list it as new.
Amazon has a full-page document on how to list your items as per their condition. You can read it here.
If you are unfamiliar with the condition guidelines then I highly recommend you give it a read.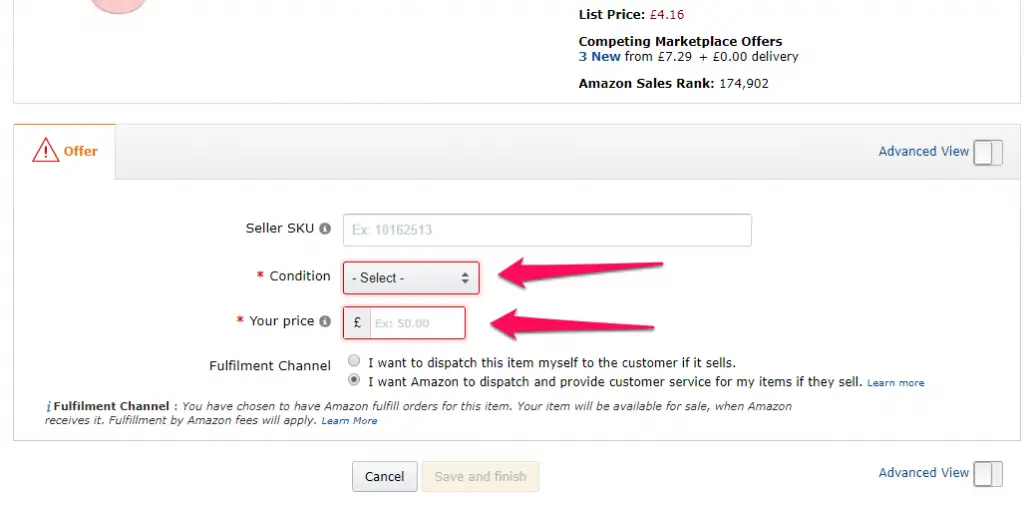 After you have entered your condition and price you can click on "Advanced View" for more options to add to your listing. These are not compulsory, but it will allow you to add more information such as your own notes should you want to.

Make sure the bottom button as pictured here is enabled. You want Amazon to dispatch and provide customer service for your items.
Then click "Save and Finish".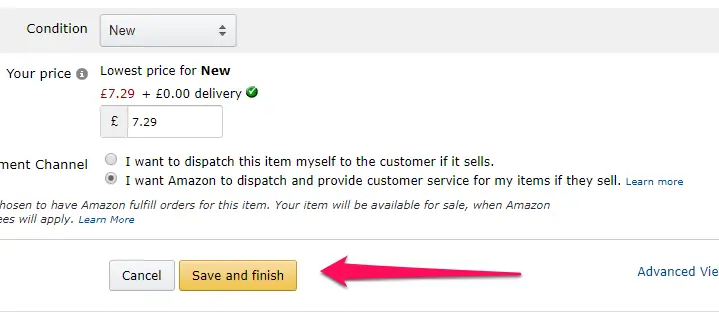 On this next page, it will ask you if you want to convert to Fulfilled by Amazon. This is a little confusing as it thinks you are ready to send them in here. You are not ready yet as you want to list multiple products for one box to send in.
So just click "Back" here.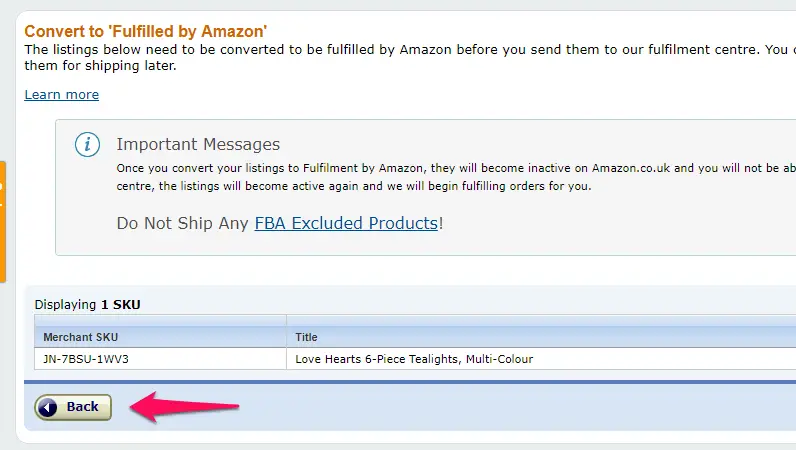 This will take you back to your inventory. Here is where you can simply rinse and repeat the steps above. Do this for all the items you want to send in. This will load up your inventory so you can then move on to the next step.
Don't worry, nothing is for sale yet.
So – repeat the steps above and do this until all your products are listed in your inventory.
Then when you are ready "select" all the products in your inventory using the tick-box on the left-hand side of your dashboard.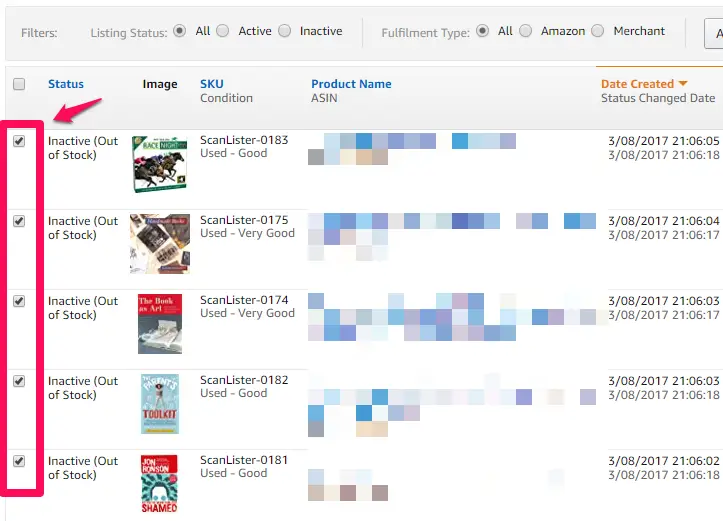 Then click the drop down menu with your selected products.

Next click on "Send/Replenish inventory"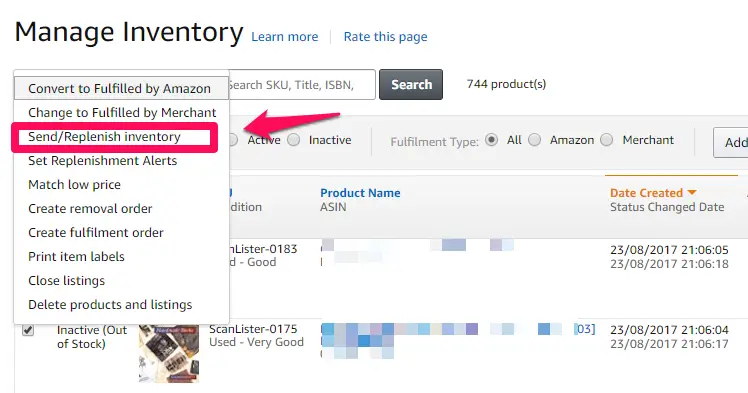 Make sure here the default settings are selected then click on "Continue to shipping plan"

Next is where you enter the quantity of each product you are sending in. Enter 1 into the box shown below.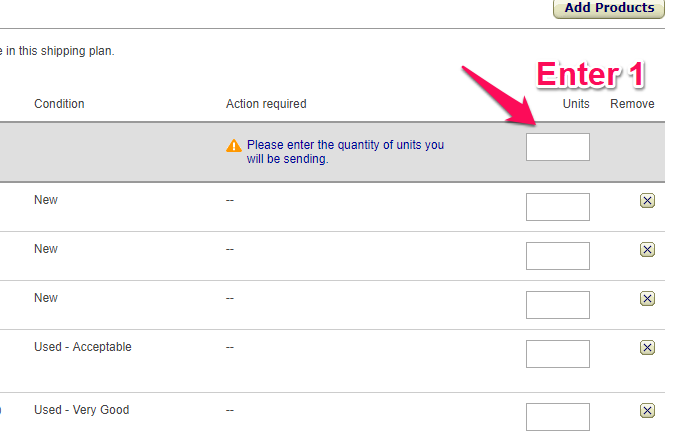 Then click continue.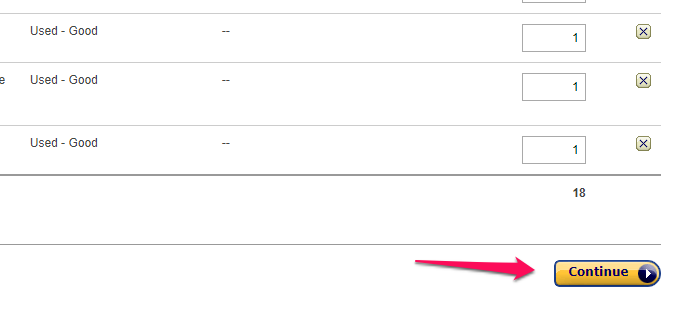 The next section is where you prepare and label your products ready for shipment. You have the choice here of having Amazon do it or you can do it yourself. I have always done it myself but I also know people who choose Amazon to do it for them. For Amazon to do it they charge £0.15 per item. For the purpose of this tutorial, I will select "seller" (you) to do it.
Once you have selected "Seller" you can select "Apply to all"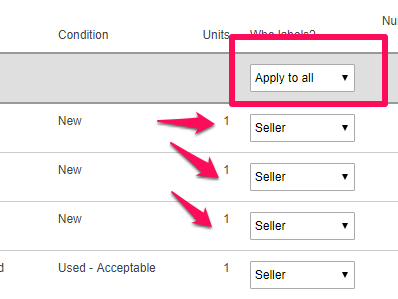 Now you can print your labels by selecting the "Print labels for this page" button.
I use a 27-up sheet.

The video below shows the next few steps in the process. Essentially just labelling your stock.
After you have labeled your products pack them into your box and if necessary use filler paper to pack it out a bit like I have shown here in my box below.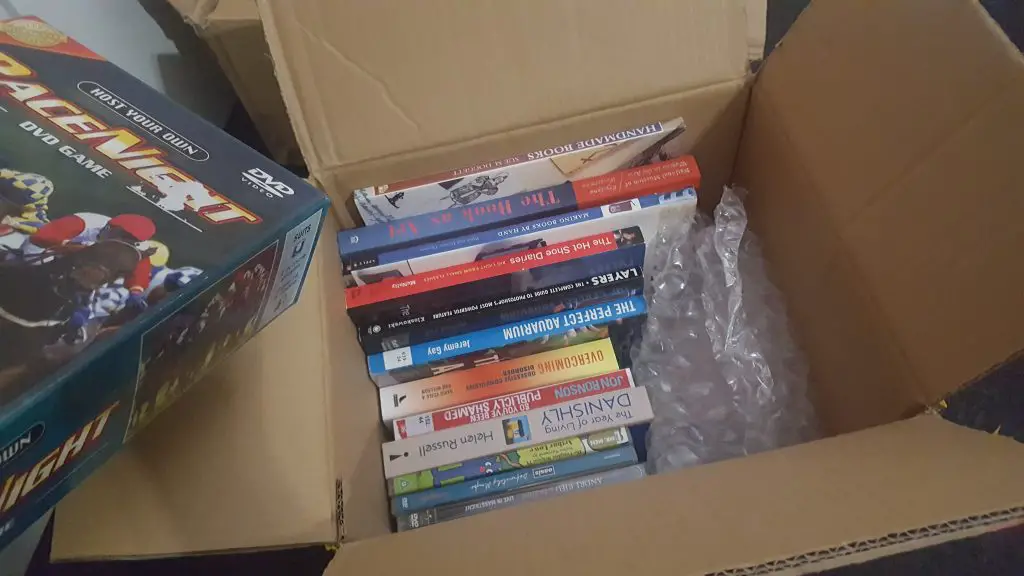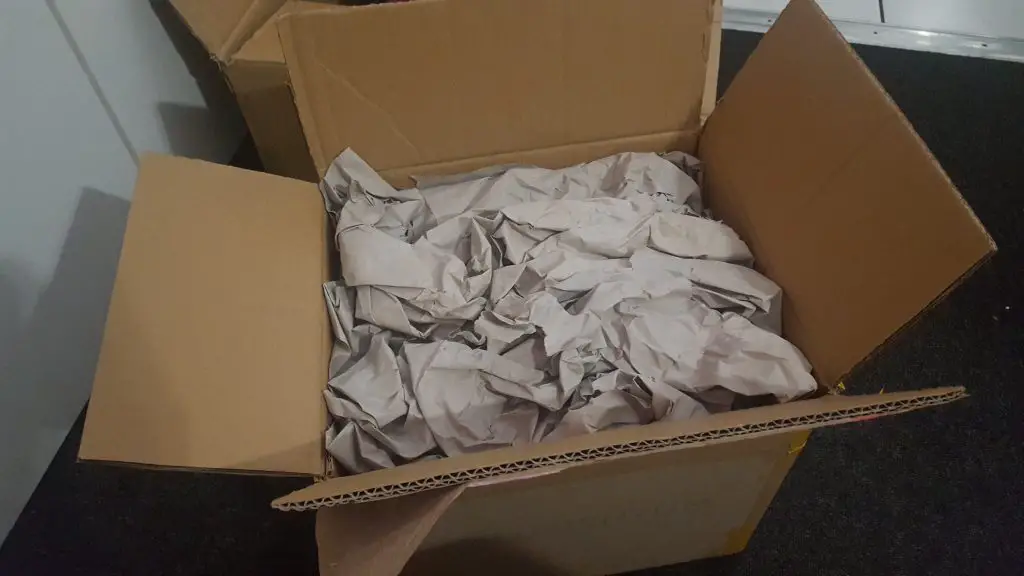 Once you have all your products securely in your box, tape it up and in the video below I will show you the next step which is the box labels.
When you have done the box labels and taped them to your box click on "Complete Shipment"
So – after this step, you are all done to send it in.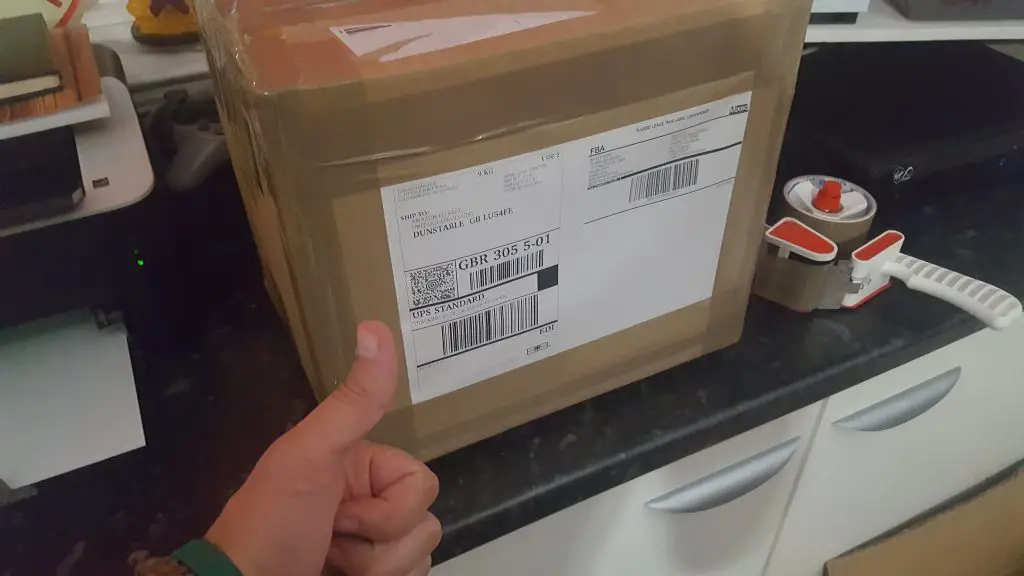 I always use a UPS access point. This means you can drop it off at any of these and UPS will pick it up and deliver it for you. You do not have to pay anything here – the £5.04 will be deducted from your Amazon account.
Payroll is every two weeks so after your first box hits the warehouse and some products start to sell you will more than cover this cost.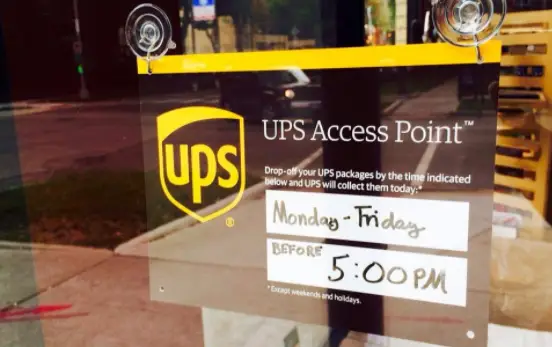 Boxes can also be collected from any home. You have to arrange this on the UPS.com website.
I am sorry but I cannot advise on this as I have not done it but I am sure it's quite straightforward.
Conclusion and Wrap Up
I hope this tutorial will inspire you to get your first box in. Amazon can be a very rewarding place if you are willing to put the work in.
Whether it's just a nice part-time boost income stream or a full-blown full-time income you can achieve it with Amazon FBA.
The real players in the game all started off like this. That first box, learning how to do it. This is by no means the perfect process, the perfect way to do it but it works, and it's a simple process if you follow the steps.
It gets easier – this may seem like a bit of a headache at first but once you do it you will be knocking out boxes and sending them in no time.
There are many tools of the game which you can use which I will write about in future posts. These can help speed up the process.
For now, though it's time to master the basics.
I really hope you get on board with this. Trust me – that first sale will put a smile on your face.
Do you want to start your own side hustle? Then get on the newsletter and join other like-minded individuals like you all making healthy side incomes!