I am sure you are aware of the many ways to make extra cash online these days but have you ever wondered how to make money from Amazon? Well, if you did then you have come to the right place.
I have spoken about Amazon many times here on the blog and the multiple ways in which you can use this juggernaut of a platform to make money for yourself.
You can use it to earn a small side income stream, or you can use it to carve out a fully functional six-figure or even multi-million dollar full-scale business.
Throughout this post, I will be sharing the many ways in which it can be done. I personally use Amazon for two of my side income streams and have also had years of experience in a third one.
I will share the many ways in which you can use Amazon to earn some extra cash in this post.
If you are thinking of starting a side hustle, then although the "Amazon world domination" may not be for everyone you are blessed with opportunities with the platform. No one can deny you that.
The Many Ways To Make Money From Amazon
Amazon FBA
Amazon Merch
Amazon KDP
Amazon Kindle
Amazon Audible
Amazon Mechanical Turk
Amazon Affiliates
Let's dive into each one in more detail.
Method #1 – Amazon FBA
Amazon FBA is a service whereby you send your goods to Amazon, they store them for you, sell them and deal with the packaging and shipping too. Your job with this is to simply source products and send them to Amazon for them to sell.
People have this big misconception that Amazon is the cheapest marketplace out there but they are wrong.
You can do this side hustle in two ways in my view. The first way is to source literally anything you can, this can be second-hand goods too. Amazon marketplace is a superb place to sell second-hand quality used items.
When you open an account with Amazon FBA you get an app and you can scan the item's barcode and this will tell you exactly how much it is selling for on Amazon. You can obviously price things up however you want but it is a good idea to price within the current selling range.
For a full and complete guide to Amazon FBA including the walkthrough to sending in your very first shipment check out my post on it here: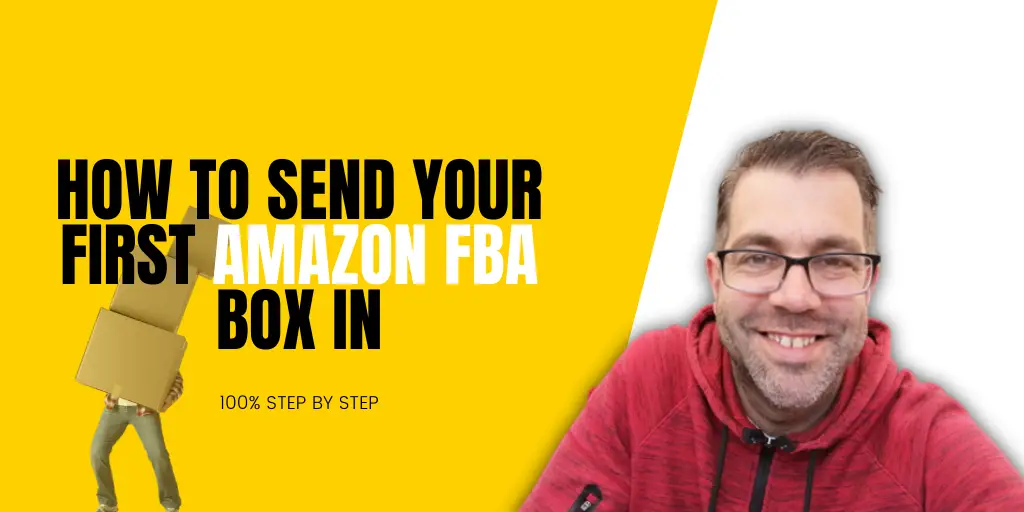 Other related posts:
Method #2 – Amazon Merch
If you like the idea of more "passive" income streams then you may like the sound of Amazon Merch. This part of their business comes in the form of print-on-demand merchandise.
The bulk of Amazon Merch is t-shirts. So, think of this as setting up and running a t-shirt printing business.
But, again, like Amazon FBA all the shipping and orders are dealt with by Amazon. Your job is to come up with designs.
If you are lucky enough to get approved (you do need to apply for an account with them for this, unfortunately) then you will start on Level 1 which allows you to list 10 t-shirt designs. Once you make ten sales then you rank up to Level 2 which allows you to list 25 t-shirt designs. You can scale this up so you can list thousands of shirts.
It is all about getting sales. They reward the accounts that make regular sales.
Some tips on Amazon Merch:
Try to pick a niche and stick with it (in the early stages)
Promote your shirts elsewhere on Social Media
Don't overthink it – just because you don't like a design doesn't mean others won't
Sometimes simple text based designs work well!!
If you are just starting out then you can use free software like Canva which is perfectly suitable for creating Merch designs.
The more advanced designers may want to use more sophisticated software such as Photoshop.
If you want a full exact step by step guide on how to list your shirts on Amazon Merch then I have this guide in my book here on the mailing list:
Or you can grab a more in-depth physical copy from Amazon itself here: https://www.amazon.co.uk/Side-Hustles-Blueprints-Follow-Keeping/dp/B08BGJXL8F
Side note: I will be discussing selling your own books on Amazon too just like this!
Related links:
Method #3 – Amazon KDP
The KDP platform on Amazon is quite groundbreaking, I think it is a one of a kind really. It allows you to sell your own physical books on their platform. KDP stands for Kindle Direct Publishing and whilst it also allows you to sell Kindle books this part is going to focus on the physical books.
Like Amazon Merch, it is print on demand meaning that Amazon will print a book of yours when there is an order. You do not hold any inventory.
So, unlike traditional book publishers, there are no upfront costs.
You simply write your book, upload it to the Amazon KDP platform then let them take care of the rest.
You always get paid each month on time, straight into your chosen account.
You can write fiction, non-fiction books, or you can even produce children's illustrated books, puzzle books, journals, notebooks, diaries plus much more.
The opportunities with Amazon KDP are endless.
Another great thing with this is there are no pre-requisites in order to sign up. In fact, if you have an Amazon account you are good to go.
Once you have uploaded your book you can set your price and then providing there are no issues your book will be live to the millions of Amazon customers within 48 hours.
Never before has there been a better, easier way to become a self-published author.
This is exactly how I sell my own book "Side Hustles".
I wrote the book in Word, then uploaded the text into Canva and done some editing then uploaded it to the platform. Simple really.
What if writing is not your thing?
Well, as I mentioned this is fine too as the Amazon KDP platform also allows booksellers to sell books such as notebooks, journals, puzzle books, coloring books, and just about any other type of book you can think of.
For a full tutorial and example as well free templates for designing and printing notebooks on Amazon check out this post here: How To Design & Sell Notebooks On Amazon
Method #4 – Amazon Kindle
Amazon Kindle falls under the same platform as the KDP physical books I mentioned. Except obviously with Kindle you are able to price your work much lower which may mean lower profits for you but you are able to shift more.
Many people now are switching to e-readers to consume their books. For me personally, I still prefer a physical book but personal opinion goes out the window when we are learning how to make money from Amazon.
With the Kindle versions of your book, you upload via the same platform as you did for the physical books. So, if you already have an Amazon account then you can just log in get going.
The formatting of Kindle books is a little different to physical books. You need to make sure you have this correct.
There are many tools online to help you with this, but one of the best blog post articles on it is from PickFu here.
I just formatted my own book in Canva and uploaded a PDF file. But, I could and probably should have been done better. Had I known about the article linked above I would have done it differently.
The beauty of Kindle books is you don't have to write epic long stories or non-fiction titles. It is perfectly acceptable as a Kindle book to publish works in around the 30,000-word count.
And if you are doing this as a fiction short story then it's perfect to link others to it to form a series. Not only does this bring in more revenue as you will be selling more books but it also gets you as an author "out there" more and known to your readers base and market.
Recently I was on a podcast with my good friend Andi and we spoke with a lady called Jo who has her very own Kindle publishing side hustle going on. She writes books in the romance niche some of which she outsources but she makes consistent money from them each and every month.
Related Post:
Method #5 – Amazon Audible
Did you know that Audible is owned by Amazon? This marketplace is where you download audiobooks. The beauty of this is it is fairly new, meaning it has less competition.
So, if you have a book on other platforms such as Kindle for example it may be worth also listing it over on Audible too.
I know what you're thinking – "There is no way I can transcribe my entire book in my voice, I sound awful!"
Don't worry, you don't have to.
You see, they have a partner program that runs alongside Audible, and it's called ACX.
Here you can hire a producer who will narrate your book for you. You can run a few sample auditions first and when you are happy make a deal with the producer and he/she can get to work.
You have options with regard to payments. You can either make a deal and pay them a one-time fee upfront or you can negotiate a royalty share for lifetime sales.
Depending on your budget both options can work favourably here.
The process for creating an audiobook through ACX is as follows:
Confirm you have the audio rights for your book.
Create a profile on the site.
Find a producer (narrator).
Review the auditions.
Arrange a deal.
Get started with the work.
Approve the final delivery.
Distribute across various Amazon networks and iTunes.
Promote your book elsewhere (social media, your email lists etc).
Earn royalties!
Once you have your audiobook ready to publish you will need to create some cover art for it. You can either have a go at doing this yourself or outsource this. Don't rush this part! A good cover can be what sets you apart from the rest.
After you have uploaded your audiobook along with the retail-ready cover art you will need to write a description, try to include a few niche, targeted keywords here too.
Then, all being well it should be live in the marketplaces within 10 business days.
Method #6 – Amazon Handmade
Do you like to make handmade products? Perhaps you already run a craft business or local stall to sell your pieces? Well, how about getting your expertly made gifts in front of potentially millions of customers from all over the world?
Amazon offers a very unique platform where you are able to do this. The great thing with this is you are able to still follow your passion for creating wonderful products and crafts but now you can have a much larger customer base.
There are a few conditions to selling on Amazon Handmade. The most obvious one being that the good you sell MUST be handmade. This is not like Amazon FBA where you can sell others people's products.
Some examples of the products on offer over on Amazon Handmade:
Jewellery
Home Décor
Pottery (Kitchenware)
Beauty Products
Soaps
Stationary (Wooden Pens, etc)
Party Supplies
Toys & Games
Garden Décor, Planters etc
That list is just the tip of the iceberg really. Essentially if you make something, then you are usually eligible to sell it on Amazon Handmade.
Related post: The Mum Who Fuses Glass, Sells On eBay & Runs An Amazon Business
Like Amazon FBA you do have the option of letting Amazon deal with the packing and distribution of your products once you make a sale. So, if you have a hot seller it may be of benefit to batch build a box load of them and then send the whole box into Amazon and let them take care of the sales, posting, and packaging for you.
Method #7 – Amazon Mechanical Turk
Amazon's Mechanical Turk platform is a workplace that allows its workers to earn a few dollars here and there in their spare time. You will be carrying out simple tasks for people who need such data.
There is a whole load of tasks that will be available ranging from selecting the best-fit image to providing actual written work.
Each piece of work also comes with a different payout. Some will just pay a few cents and may only take you a few seconds, others may pay up to $40 dollars but will take a significant amount of time longer.
If you have an Amazon account then you can already sign in as a worker on the platform.
Here I have filtered the highest priced tasks, you can see some quite nice jobs if you want to take them on.
But, in all reality, the majority of the tasks are the much smaller but quicker jobs like these below.

When you sign and start completing a few tasks you are probably want to get paid some of that hard-earned cash right?
You have two options here.
You can either get paid to your Amazon Gift Card balance, this can be set to a frequency you like.
Or you can get paid into your bank account.
Method #8 – Amazon Affiliates
The final method on how to make money from Amazon is to become an Amazon affiliate. This allows you to sell any product on Amazon and take a small percentage of the sale as an affiliate.
The amount you will earn varies between categories on Amazon.
Unfortunately, Amazon recently slashed its affiliate commissions to sellers, some categories are now as low as 1%.
But, as a general rule if you work to about 3% commissions across the board this is about right.
The great thing with Amazon affiliate sites is that you hold no inventory, you do not deal with any customer queries, complaints, or returns. Nor do you handle any products or do any shipping.
So, although the commissions may be low, your primary work is all about building a system that pays over and over again.
If you can build a website that offers Amazon products then you are halfway there.
The holy grail is getting that website in front of thousands of hungry buyers.
Obviously, you can do this in many ways, you could set up a social media account around your website's niche and grow a following that way.
But, the best Amazon affiliates who make the most money tend to go about getting articles ranked on Google so eventually creating a passive income stream.
If you want to go down this road then make sure your Amazon affiliate website is niche and stick to it. There is no point in trying to make a site called "Bob's Amazon Store" and selling everything from teapots to lawnmowers.
However, if you went niche and stuck to it then you could create articles that the readers want to read then go on to click your products and maybe buy.
For example, if you created a site called "Leon's Luxury Lawnmowers" and produced content all around lawnmowers then you could be onto a winner with getting some articles ranked and therefore making a passive income from any Amazon sales.
For example, posts like:
The Best Lawnmowers Under $200
Which Lawnmowers Are Best? Petrol or Electric
Should I Buy ______ Or This ______ Lawnmower?
What Is The Difference Between _____ And _____ Mowers?
Top Ten Budget Electric Lawnmowers For 2021
These are just examples, but you get the idea. Each one of these posts could have many affiliate links to Amazon products.
One more thing, Amazon affiliates earn commission on ANYTHING that buyer purchases with the cookie period of 24 hours. So, if your buyer likes what they see and order from the link on your website you also earn commission on anything else they buy on that visit too.
Example:
Terry visits Leon's Luxury Lawnmowers website and reads an article then clicks on the link within that article to buy the lawnmower recommended in the post. Whilst there he also buys a TV and some new underpants.
You will earn commission on the lawnmower, the TV, and his new underpants!
If you want to explore this way of making some money using Amazon then I highly recommend checking out Alex's WP Eagle YouTube Channel. He has tons of great Amazon affiliate content on there. I have used a couple of his tutorials before, he literally covers everything you need to get going.
Final Thoughts
So there you go, plenty of options and ways to make money using the Amazon platforms. Whether you agree with the principles of it or not you can't take away the fact just how big Amazon is and is going to get.
The number of buyers with Amazon accounts is insane. Amazon now has over 200 million Prime members and millions more basic users.
So, if you are selling ANYTHING physical you may want to consider this as a platform. But, do not forget about the many other opportunities I have outlined in the post.
Make sure you jump on the mailing list where I share tutorials like this plus much more that isn't covered on the blog!