Did you know it is possible to set up and sell digital products with Stripe? Straight from your website? Yes, that's right. You can set up a digital product, such as an ebook or a small PDF or some templates and place a buy button and protected paywall around them, and start selling them.
Until recently I had not heard much about Stripe. Over the years of selling digital products online, the space has obviously changed a fair bit.
Before we tackle Stripe there are obviously many other ways in which you can sell digital products online. Let's take an eBook for example:
You could list your eBook direct on platforms like Amazon Kindle, not only will this save time but Amazon will handle everything for you once you have uploaded it. All you need to do is check your balance each month after the payout.
You can still advertise your book on your own website, but the link will just point to the Amazon listing. As it's your own product it does not have to be an Amazon affiliate listing either. Just a direct link will be fine.
Related reading: How To Make Money From Amazon
Obviously, there are some downsides to listing on third-party websites. Number one is they are building a nice list of buyers from your eBooks, not you.
The other one is you are kind of limited in pricing. There will be competition on third-party websites so you will have to price competitively.
Another platform is one called Gumroad. This is great for selling digital products or courses. Actually, with Gumroad you can sell physical products too but let's stick with digital products for this post.
There are fees involved, whilst the account is free the fees are around 8% per purchase with Gumroad.
I sold my very first product on a platform called Warrior+. This was the go-to place for anyone selling stuff online many years ago. It did have some rather negative reviews, but that was not a problem with the platform, but more about the products that were being sold.
I sold a very small product there called "30 Minute Infographics". It was my first time and I gained some experience in listing digital products online to sell so it wasn't all bad.
It is funny because the whole thing got hacked and posted all over black hat forums. Still, I got a nice payday from it so the freebie hunters didn't bother me really.

But, you came here for Stripe so let's talk about that.
The great thing about Stripe is that it is a payment processor that is designed for Internet Marketers. So, it fits perfectly with digital products.
I used to think of Stripe a bit like PayPal but the two platforms are miles apart. PayPal is essentially an online bank now whereas Stripe is a payment processor.
It is a very trustworthy platform, and your funds are secure here, many big companies such as Deliveroo and Shopify are now accepting payments with them.
One of the great things when you start selling digital products on Stripe you will notice is the dashboard. You can track all the sales etc and where they've come from. If like me, you are a bit of an analytics nerd you'll love the Stripe dashboard.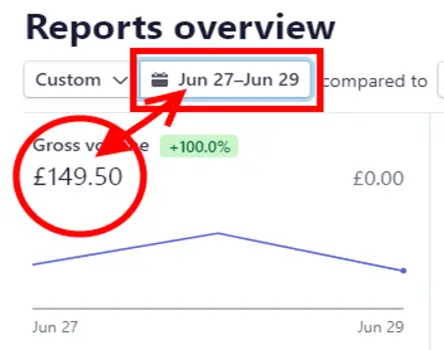 You can run reports on your sales too, comparing to previous times to check up on your results and see if you are improving or you need to make some tweaks to your marketing efforts.
As I mentioned, all the customer data is available and if you are a bit tech-savvy you can extract all the buyer emails and add them to your email list. There are tools available such as Zapier which allow you to connect software together and extract data such as email and add it to your mailing list. Select double opt-in here as its best practice for data collection policies online.
As they say in the marketing world, a previous buyer will often become a buyer again.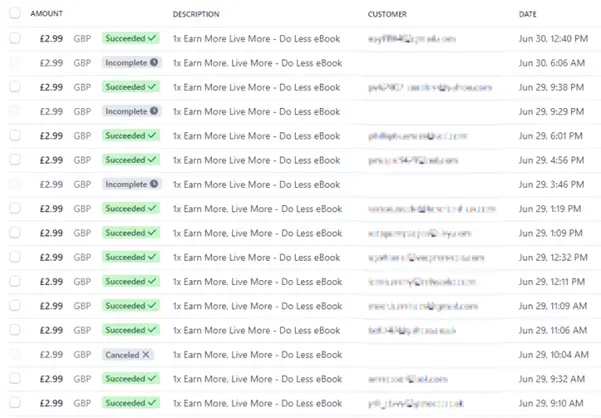 As you see here from the results my mate Andi has, plenty of data. You can also remind the buyers who for some reason did not complete the checkout process.
We spoke about this on a podcast recently. If you want to learn more about how to sell digital products with Stripe then check this out:
Final Thoughts
Each solution for accepting payments online for your products won't be for everyone, you have to find what's best for you and your business. Some people just opt for the 3rd party options like Amazon or Gumroad but if you want to price higher and be more in control of your own list and buyers then selling products on your own website with a payment processor like Stripe may be the way to go.
If you want to look at selling courses then there are a whole host of platforms you can use such as Kajabi, Podia, Teachable, Udemy plus tons more.
If you enjoyed this short post and it has opened your eyes to selling products online, then you may want to consider jumping on the newsletter list with the 500+ other side hustlers.
Go on, you know you want to….