In this blog post we are going to be talking about a Survey Site called Prolific Academic, you may have heard of it or you may have not. But, you are most likely thinking how much does Prolific pay?
Well, I have been testing it out for a few weeks or so now so I can give you the low down and hopefully answer that question for you.
But first, let's talk a little about what it is and how it works.
Prolific Academic is a survey site that works both ways. You can either sign up as a researcher or as a participant. As you are here looking for how much money you can make from the site, I am guessing you are going to want to sign up as a participant.
So, you need to do just that. Sign up and join the team of over 150,000 participants who help carry out and take part in engaging research in which you are rewarded with cash.
Before we continue here are two things that Prolific will NOT DO:
Make you a millionaire
Replace your full-time job
People must understand that before we carry on. However, here are some things Prolific can do:
Help you earn some extra cash
Engage in fun and interesting market research and surveys
Help with paying a bill
Earn money from the comfort of your home
Participate from your laptop, tablet and in some cases a mobile phone
Help save towards some small things
Build a pot of cash for the Xmas holidays etc
Related post: How To Create Your First £500 Seed Fund
So, How Does Prolific Academic Work?
When you first sign up as a participant you will be asked to answer some basic lifestyle questions. This is so they can get an idea of what your interests and levels of education are so that they can tailor the best research and surveys to you.
It's quite straightforward, just fill this in as best you can. It really makes all the difference, and you will find you will get better, more suited surveys that will interest you in the long run.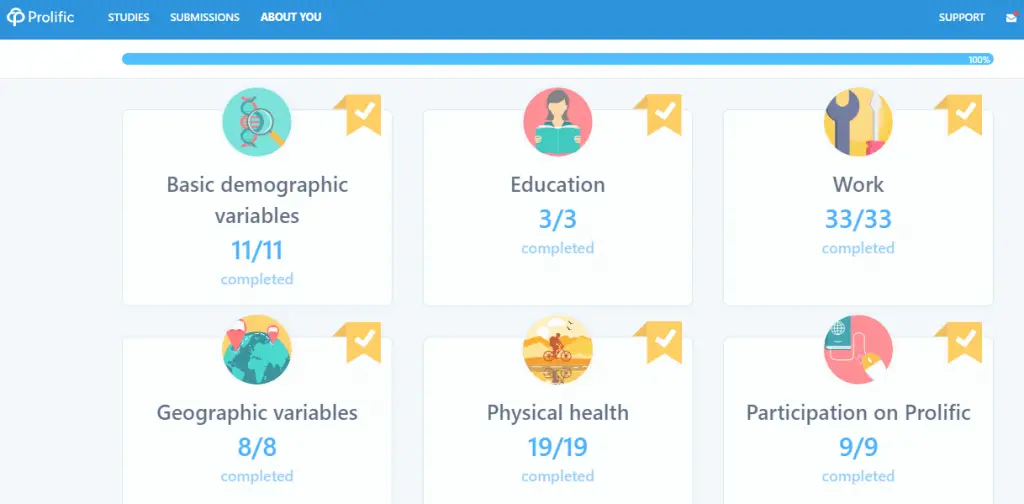 Once you have completed this stage you may find you will get a survey or two straight away. If so, then that's great! You can start earning straight away.
The reason this stage is important is so that the research companies can reach the best and most matched demographics they want for their study. It makes sense, for example, if you have never smoked a cigarette in your life then it's unlikely a company in this field will want your opinion on the latest vape devices.
Another quick thing you want to do before you dive into surveys is to install the Chrome extension on your browser.
This is great as it will alert you every time a new survey is posted. As most surveys only have a certain number of spaces this will give you a good chance of getting in early and beating the rush.

Now you are all set up you can start to do some surveys! You can select any you want from the left-hand side of your dashboard when you are logged in.
You will see the amount that each will pay and also the average expected time it will take to complete. So, its up to you here. Do you take on the biggest paying surveys or the quickest? Totally up to you.
Once you select a survey it will prompt you with a brief description of what you are expected to do, then you are able to "reserve place". Once this is confirmed you are in and ready to go.
It will ask you for your Prolific ID, this will be presented for you on the next screen. You can copy this via one click on your mouse or in most cases the software already copies it to the host, and you are all set to go.
Here is an example of what I mean: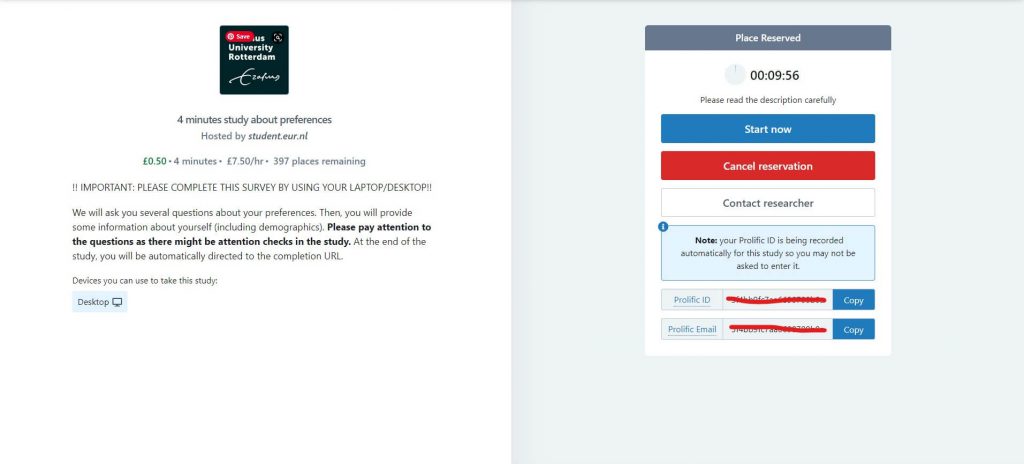 I have selected the following short survey, from here I just click on "copy" on my Prolific ID, just in case really as most of the time the software inputs it for you.
Then I am able to start the survey by clicking on the "start now" button.
Try to answer the surveys as best you can. They are paying for this market research and they want REAL ANSWERS FROM REAL PEOPLE. In order to try and achieve this occasionally, they will try to catch you out by not reading a question correctly.
Not passing these little catch-out questions may result in not getting accepted to further surveys.
Here is a little example of them trying you catch you out.
If the person did not read this information and just went straight to answer the question they would have been removed from the survey. A little warning if you were thinking of just randomly inputting answers!
How Much Does Prolific Pay & How Do You Get Paid?
With the setup and the basics out the way, we can now talk about how much you can get paid from them and how to go about receiving your money.
First off, payments from Prolific are made directly to your PayPal. You do not need to use the same email address you signed up with as your PayPal address. It's perfectly fine to have a different one here.
As a new participant you have to wait until you meet the minimum £5 threshold for payments, and they run their pay runs on Tuesdays and Fridays. So, depending on which day you cashed out you would have to wait until one of those days before you receive it in your PayPal account.

However, when you have cashed out four times then you are automatically upgraded to instant cashouts, meaning you will receive your money on the same day you withdraw it.
So far, I have only done one withdrawal and it went into my PayPal account absolutely fine, no problems. This is a legit company. There are no concerns regarding payments being on time for example.
Studies pay a minimum of $6.50 per hour. (£4.77)

Now, this doesn't mean that you will earn $6.50 per hour (which is £4.77) and this is for a number of reasons. One reason is that there may not be enough surveys currently available to you, no surveys = no cash.
The other is that most surveys only take a few minutes. So, you are more than likely to take surveys that actually pay a higher rate but only take a few minutes. I would expect most people to take the shorter surveys on offer.
These all add up nicely though and are quick and easy to complete. Take a look at these for example, all short but actually with a higher hourly rate.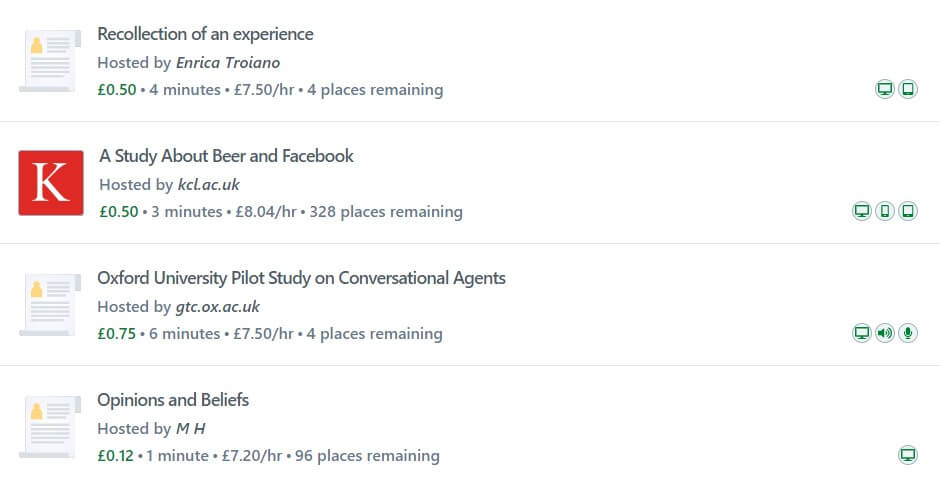 It is possible to get some higher-paying surveys. You just have to log in at the right time or be at your computer when the notification goes off. See below for an example of some bigger surveys.

How Much Is It Possible To Earn With Prolific?
On average I would say it is quite possible to earn up to £100 per month with this if you really dedicated time to it. But, the reality is people won't.
I would say it's realistic to earn around £60 ($80) per month and this is fairly achievable. From what I have seen the surveys are plentiful so it's really up to you how much you want to make.
Remember it is just trading time for money, and if you break it down you are probably better off seeking overtime at your day job if money is really desperate.
But, I understand, some people don't want to work more hours in their job. They would prefer to sit in the comfort of their own home and earn some extra cash.
If you like working this way and within your own boundaries then Prolific will be a good fit.
You can sign up for a free account here: Prolific
Remember, you are not going to get rich with this, but it can help ease the strain on the finances a little if you give it some time.
For me, you need to think of it as a little savings pot. How much would £200 help you as a cash sum each year? Well, with Prolific that is more than achievable, just break it down into 5 months of £40 or even 10 months of £20.
This is the way I would play it.
Will I continue to use it? Well, survey sites are by in large not for me and I like to work on other things. For me, there are better ways to earn income online. That said, this is by far the best I have seen. No ads, no crappy over-hyped promises, no videos to watch, no games or apps to test. It is literally just market research by genuine companies that value your opinion and feedback.
If you want to earn some extra cash by taking simple surveys, then look no further than this site.
If you want to be the first to know about other side hustles and join an ever-growing movement then get on the email newsletter. Its free and I'll throw in a copy of my book too!