Print on demand services have changed dramatically over the years and many new sites have entered the scene, some have vanished altogether. I am going to assume you have little to no experience with print on demand services throughout this blog post as I talk you through the tips and strategies I use to earn a pretty decent side hustle from it.
What is Print on demand?
Print on demand services is basically a service such as T-shirt printing, mugs, hats, posters, etc that will only print when there is a demand for it. In your case when you make a sale. (When someone buys your design).
You see, gone are the days when to put a design of your own on a t-shirt you have to buy a plain t-shirt, take it to the printers, find one that actually will do it and then wait for them to do it. Now, there are tons of websites where you can simply upload your design, have the company print it and ship it out to you.
But, now you are in a position to set up your own stores, list your own designs and other people can buy them and you can collect the rewards!
You hold no inventory, you pay NOTHING for stock upfront. You do not have to buy any expensive printing equipment. Your role is to simply come up with designs that people will buy and promote your shirts (the promotion bit is optional but well worth it, more on that later)
Disclosure: Some of my blog posts may contain affiliate links, this means if you ever purchased anything from this blog that was not my product I can receive a commission at no extra costs to you.
Can Anyone Do It?
Yes! That's the beauty of print on demand. Literally, anyone can sign up for an account and start uploading designs to their merch of choice.
You do not need to be an expert designer, or a guru in graphics, or even an expert in Photoshop.
I have never used Photoshop in my life and my print on demand earnings total is around $4500 to date.
One of the POD services I use.

If you have an interest in design, or even if you just want to start a new side hustle then print on demand could be for you.
I will be going through three sites on this post where you can set yourself up and start earning some passive income.
What Are The Best Sites For Print On Demand?
As I mentioned there are a whole host of sites that offer this service now. All of them have varying payout options and commission structures.
I will be going over three, because I have used or I still use them to this day.
#1 Sunfrog Shirts
Sunfrog Shirts is a great site and has a really simple to use interface for uploading your shirts. There are two ways you can make money with this site. Either as an artist or a seller.
Both have different payout structures.
You can get paid as an artist which is basically when anyone buys your product. Royalties here range from $2 to $8 depending on what the product is.
The good thing here is sometimes your design can get picked up by some affiliates who want to promote it. Imagine you have a really hard-hitting message on your shirt and that person wants to share it with his FB group of thousands??
That would be a nice payday.
Sunfrog has a whole host of items you can list your designs on such as t-shirts, hats, mugs, posters and canvas prints.
The other way to earn some cash with Sunfrog is to promote other people's products.
This is how I have made the most money with them.
As a general rule of thumb, a shirt that sells for around $22 will net you around $8 profit as an affiliate. Not too bad for someone who has not had to design it, does not have to ship it to the customer, or on the rare occasion there are any customer issues does not have to deal with that either.
I will go further into some promotions with Sunfrog later. Also some selling tactics with the other platforms later in the post.
#2 Amazon Merch
This platform does require an application to join. It's free but they do want to know a little bit about you first. My advice is if you are thinking of doing print on demand at all then you want to get an Amazon Merch account so head over a register now.
It can take several months before you get approved. So, remember that.
As I say, head over and register then forget about it for a while. You'll get an email when they approve you. They usually do it on mass in rounds.

The main benefit of having an Amazon Merch account is your shirts are listed on Amazon itself and with that, you also get the MILLIONS of buyers on tap.
Like I said earlier I will go over some methods to increase sales. But with Amazon, a large proportion (or 100% if you're like me) of your sales will be form organic traffic.
What Does Organic Traffic Mean?
Organic traffic is when people are actively searching for your designs or similar when they come up in search or suggested feeds.
This really is the holy grail of selling shirts, and Amazon Merch is the best at this by far. It's the biggest eCommerce site in the world, so ideally you want to get in on the action here if print on demand is something you want to explore.
Sadly, the interface on Amazon Merch is not as good as other sites. They are very particular in their upload sizes – they have to be exact in fact.
Also, there are not as many products on offer. Its main focus is apparel, and your designs need to be adjusted before you upload them to fit on certain products.
This is by no means a showstopper. Like I say you get the best organic traffic with Amazon Merch so it's definitely one you should have in your locker.

The screenshot above is from my account, as you can see I generate most of my sales in the US, but I make sure I list the designs in the UK and Germany too. You may as well. I do make occasional sales in the other countries but nothing compares to the US traffic and sale rate.
The Amazon Merch Level Up System
You need to "rank up" with Merch, unlike the other options. What do I mean by this? Well, as soon as you get your account you will be able to list 10 shirt designs.
Once you make 10 sales you will rank up to 25, then you need to generate 25 sales. Once you do that you will rank up to 100 and so on.
It jumps a fair bit once you get past 100. The next jump is 500 and if you have 500 shirts listed you should start to see regular sales each day.
You can always remove shirts if they are not selling to "free up" your slots. This is actually a good idea in the beginning when you are trying to climb the ladder.
If you want a full step by step tutorial on how EXACTLY to list shirts on Amazon Merch then grab a copy of my free book "Side Hustles" where I outline this in one of the chapters.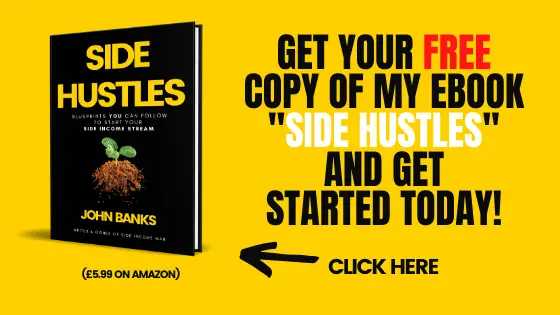 #3 RedBubble
This is another fantastic print on demand service. The amount of different products you can sell is insane. They have everything from t-shirts, dresses, phone cases, bags, drinks bottles, stickers, shower curtains, bath mats, coasters, posters, and more. You really can create some amazing products with this website.
They have a set charge per item and you decide how much profit you want to add on top. You can select from 10% up to 30%.
You really have a great opportunity from RedBubble. If you are a designer or a photographer, or maybe just have an interest in word art or some funny/trending messages this website can make you money.
I know of a woman who uploaded a photo of the sea. It was a closeup visual, really bright, and a superb photo. But nothing really out of this world but very nice and something that anyone can shoot from their mobile phones. She sold $10,000 worth of products with this photo on RedBubble.
Let that sink in, she uploaded her photo, put in some good tags, and wrote a description. It obviously got picked up in the search or shared by the RedBubble account and her sales exploded.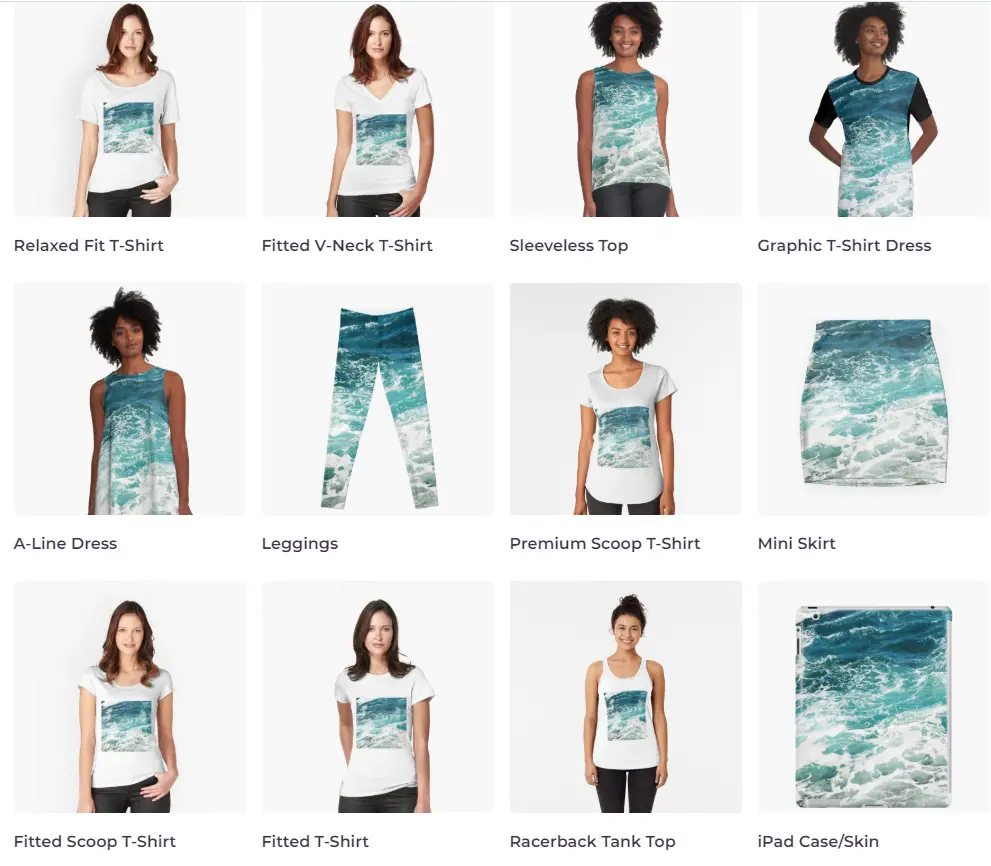 The great thing with Redbubble is you can make stores and also collections. Meaning you can group together designs or themes of a certain niche. You could do a spring collection or a collection that jumps on a certain trend like an election or a current event.
Here is a short video I made showing how easy it is to list your designs on RedBubble.
Where To Get Ideas For Print On Demand Designs?
You may be thinking about where can I find the best ideas to use for my designs. Not everyone is a super designer or photographer, but that should not stop you.
Once you start doing print on demand, you will start to see things a little differently. Pay close attention to the news as current events can be a very good way to make some quick cash with it.
Especially around election times. People are making very good profits on events like the US presidential campaign, Brexit in the UK and the Black Lives Matter movement are good examples of jumping on a trend.
Note: You have to REMOVE yourself from your own views, do not try to make it about you. It's not, remove all your own opinions on politics, religion, rights etc. You will make more sales and therefore more money if you just think about the designs and messages.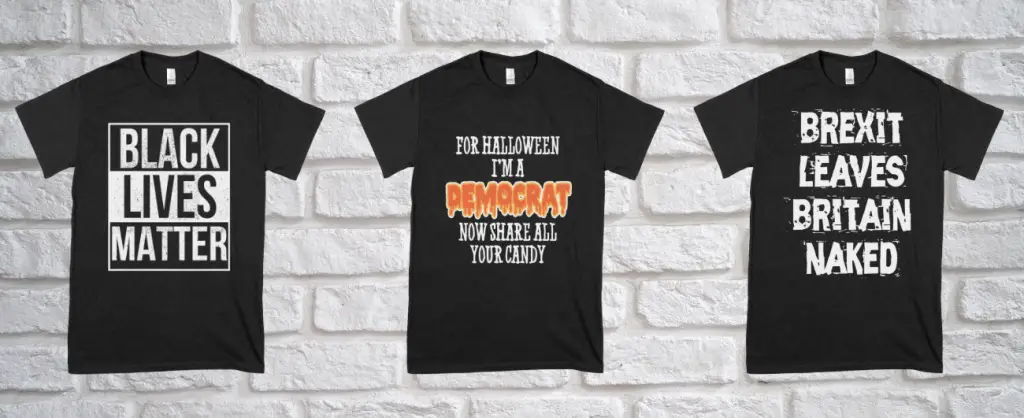 Another good way to get ideas for designs is to simply look around in shops what is selling, you will find many t-shirt designs that you can slightly alter maybe a word here and there on a slogan or catchphrase. Obviously make sure you are not ripping off a popular company's slogan or you could find yourself in some hot mess legally.
Don't forget its not just shirts either, you may find some really cool designs on t-shirts that can be applied to mugs, phone cases, hats or posters/canvas art or vice versa. Always be thinking "what would this look good on" – and, would somebody buy it.
Sometimes though, its ugly designs that explode in sales and stuff you would least expect that will sell like crazy. More on this later in the post.
Finding Quotes & Easy Word "Art" To Use
Arguably the best place to find simple design ideas is Pinterest. You can find a whole host of quotes and messages you can use on designs. Head over to Pinterest and enter in some popular quote related keywords and see what comes up for inspiration.
I headed over and typed in the keyword "yoga quote" – it gave me pages and pages of results. You can see here in the highlights I have outlined some ideas for designs.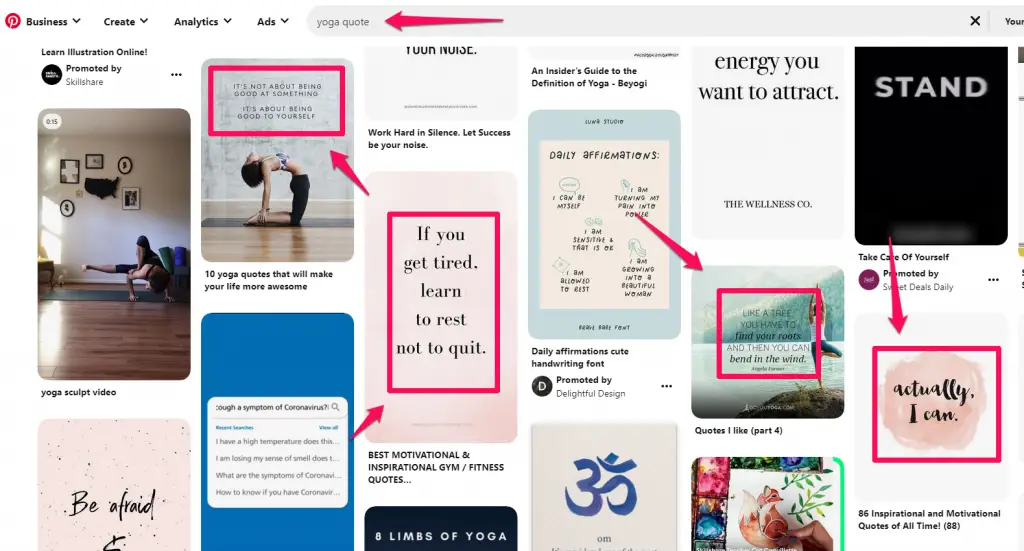 Are There Any Ways To Promote My Print On Demand Shirts?
Obviously the most satisfying way to get sales is from organic traffic but as I briefly mentioned above this is also the trickiest as you are competing with tons of other sellers.
Amazon has huge numbers of traffic averaging around 2.5 BILLION visits per month, yes BILLION. So if you list a ton of shirts on here you will get sales. But, as I stated above there is a wait to get accepted and you are going up against a truckload of other sellers. This shouldn't put you off, just be aware of it.
Remember, there are a whole host of print on demand sites.
You can run paid ads though with Amazon Merch.
This is well worth looking into if you have a hot seller. The more sales your shirt has the higher it ranks in the search so, if you have to spend a few dollars promoting it then it's well worth it.
Let's say your profit per sale is $5 on a shirt. Even if you spend $10 per day to promote this then it's well worth it, once you make 2 sales you are in profit. This shirt will quickly rise up the search results and eventually you can reduce your ad spending as you start to make more and more organic sales.
Or, you reinvest your earnings and scale-up, as long as you are breaking even then its all good!
Another way to promote your shirts is through Facebook groups and pages.
If you have a Facebook page that is very well targeted (most usually are) then the chances are you could sell your designs, or if you have a Sunfrog account then you can sell other people's designs as an affiliate on the Facebook page.
For your page to work best it needs to be super targeted and super engaging.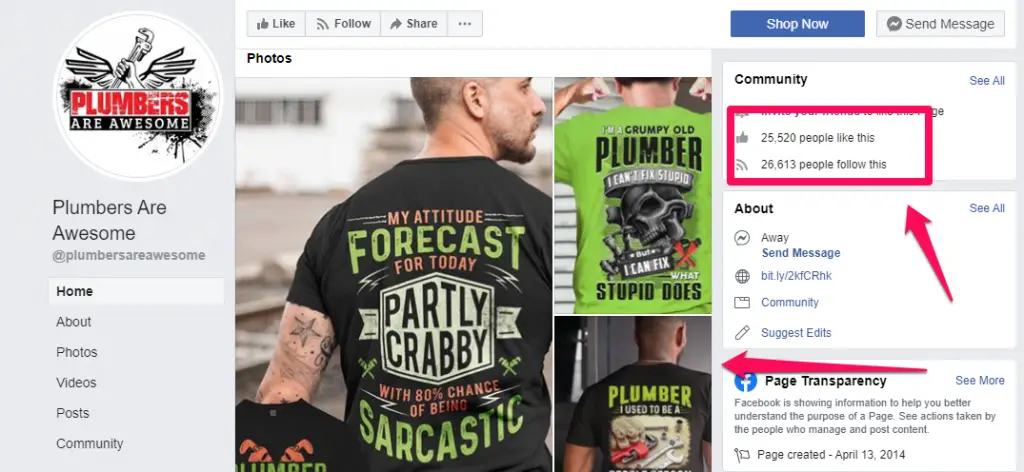 Take a look at this page. A simple idea that will be easy to get followers for. "Plumbers Are Awesome" – pretty self-explanatory really. A page like this for example will be much easier to sell shirts on than a page called "Tims T-Shirts".
This is what I mean about niching down. A page like this is much easier to target or to run some ads at.
You could promote your shirts on here and wait for some organic sales or even do a little Facebook ad boost with some clever targeting to generate more sales.
Take a look at this design I found on a fishing page. Take a look at the engagement, shares, and comments!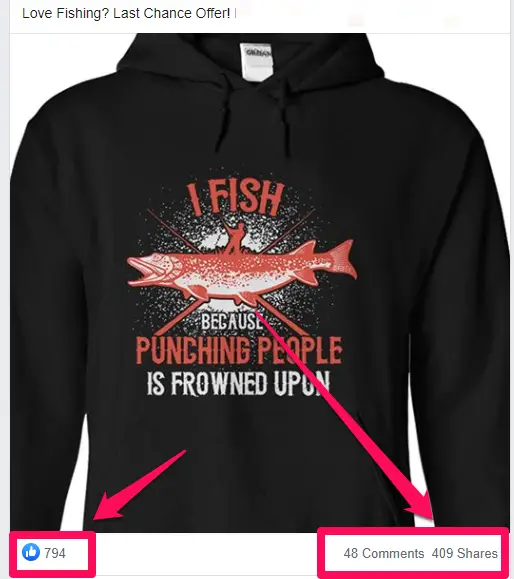 Now, obviously, this could have been boosted via some ads. But I did a little research and came up with a small audience you could run this exact design to using the interest targeting in the Facebook ads manager.
I am pretty confident that targeting like this below would also get sales, likes, comments, and shares to this post.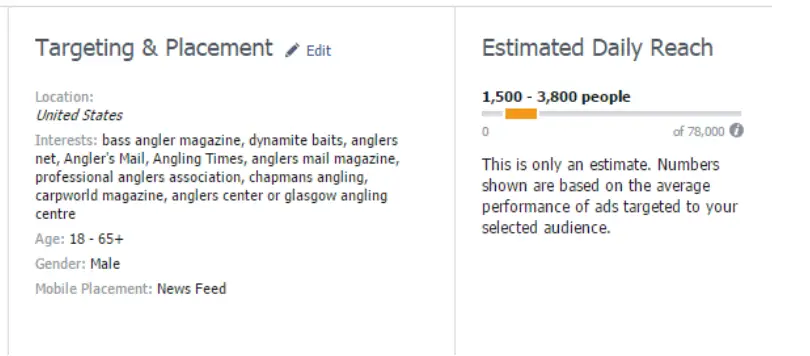 This is what I am saying, you could run this targeting at just $5 per day and once you make 1 sale you are in profit, then just carefully scale up. As you can see this ad would have the potential to reach 3800 people daily, all with an interest in fishing.
What About If You Don't Like or Use Facebook?
Then you can use other sites, another great way of promoting niche merchandise is through Instagram. Again, be niche – do not try and make a page that sells all sorts of different merchandise, it will be much harder to grow.
The best angle is to go with a mixture of fun/info and then the odd link to your designs. Remember Instagram only allows for one link in your bio. You could make this a link to one specific design or as shown in the RedBubble video above you could make this a link to your whole store!
Once you grow up to 10,000 fans you are allowed to link in your Instagram Stories to any link though so growth is key with this!
Another superb option and one that is not used as much as the other ones are linking to your designs on websites and blogs.
Maybe you run a news blog, or a local blog or even a vlog on YouTube. These are also great ways to promote your designs for your print on demand merch.
If you do not have your own website or blog then I HIGHLY recommend starting one for any kind of online business. I have a 100% free guide on how to build a website here and adding a blog.
Conclusion and My Thoughts
For me, print on demand is a great side income stream. You can literally get started today and have sales very shortly after. A family event coming up? A work gathering? These are quick ways to make some sales, but long term you want to experiment with the techniques I have spoke about here. Get on trends, try to explore niches that sell.
Once you get yourself a few sales then try to niche down. This is where you will find more regular sales.
If you want to really explore this as a side hustle, then I have given you enough info here to get started but if you want to scale it to high levels and make some great cash with it then check out my friend Verena's course on making money with Ugly Shirts!
She has netted over $20,000 selling print on demand t-shirts as a side hustle! Her course covers everything from the niche, design ideas right the way up to massive scaling with ads if you wanted to.
Case Study: How Verena Made $19,089 Selling Ugly T-Shirts On The Internet
If selling merchandise is not your thing then that's cool, but you'll definitely want to jump on the newsletter where the real good stuff gets shared with the other side hustlers!
Join The Movement.