In this spotlight, we talk with Ricky Pedley who is a sports trader and now a sports trading website owner.  I wanted to know "Can you use sports trading as a side income?"
As you will see the discussion goes off on loads of different tangents regarding sports trading and the industry. There are many core values to becoming a sports trader, you don't necessarily have to have a massive interest in sport but you have to have a basic understanding of how trading works and you also need to have massive discipline.
Sports trading is as much about the psychology of it as it is about understanding trading volumes and price charts.
Sports trading is NOT like sports gambling. We are not going to be discussing 10-fold accumulators here, if you want to do that the bookie will love you forever. Punters like that are the bookmaker's dream and they cream money from them every weekend.
We are talking about a skill set and mastering the art of trading selections. Sometimes it's about what trades you don't take as much as the ones you do.
Every trade will be a single trade. There are no multiples.
Sports trading is often the next step after people spend some time at matched betting. I have spoken about matched betting before on the blog and that is a great way to learn the basics of backing and laying bets risk-free.
Related posts:
Ricky has now moved on to sports trading which can be far more lucrative simply because of the vast amounts of opportunities to trade each day.
Over to Ricky for the interview:
Sports Trading As a Side Hustle With Ricky Pedley
(Me) Can you tell us about your own journey into sports trading? How did it all start for you and what made you decide to start your website Trade Ninja?
(Ricky) My introduction to betting/horse racing was from a very early age. I was with my grandparents going through the Grand National field (one of the worst races for betting on!). My father was always against any form of betting as "there is only one winner, the bookmaker" was quite often said to me.
I have always been interested in sports and have been good with numbers. One of my 1st bets was on a football accumulator for £1 and I was one match short of winning £1k which kind of got me more interested as I was so close.
I was never a big bettor due to what my father had constantly told me. However, the introduction of betting exchanges triggered a few ideas but again nothing serious.  I started off on the infamous "Lay The Draw" method in the early 2000s and this alongside a few other strategies I was doing quite well.
During this time I discovered what is now called Matched Betting. This is a way of making guaranteed profits from online bookmakers' offers and promotions. As this was totally risk-free it is where I focused my attention and the trading less so (getting married, starting a family along with a full-time job, there is only so much time and family always has to come first).
Over time Matched Betting has been more of a challenge, as many will be all too familiar with and I didn't want to go too heavy into the route many others have taken with it and always saw trading more of a long term thing over matched betting so over the last few years I swing now more towards trading alongside with matched betting.
Having seen a number of trading sites over the years I wanted to start a service providing several tools to people to use to help with their research and an environment to chat/discuss with other traders (trading can be lonely at times) while also providing great value to members and that is where Trade Ninja started.
(Me) What can a new beginner typically expect to earn?
(Ricky) What can a new beginner typically expect to earn – what a question! Honestly, any new beginner should not expect to be earning straight away.  I know this may put some people off but trading is something you need to learn. You really need to understand the exchange markets and how they move, how they react to certain events etc and this comes with experience.
Sure there are pointers and things that can be done to speed up certain areas. But trading is not like matched betting where you follow steps A, B, C and make a profit. With trading, you do need to make decisions.  If everyone were to do the exact same trades nobody would profit 😉
Have a clear strategy
When to enter a market
When to exit
How to react when certain events happen
When to cut your losses short
And much more
So to answer this question honestly I would say zero. However, once learned you do have a skill that can return healthy sums providing you are disciplined, keep good records, and evolve the strategies over time.
(Me) I used to do matched betting and I think it's a great way to "build a starting pot" but how did you find the switch from matched betting to sports trading? Or, do you actively still do both?
(Ricky) I was into sports trading a little before matched betting. I personally did not have this issue when focusing more on trading when Matched Betting became a little trickier for the individual.  For me, I do still actively do both sports trading and matched betting. I also combine the two which can come in handy on certain offers (eg extra place races).
For some though this can be a difficult one to overcome.  Trading requires a different mindset to matched betting.  As mentioned earlier, with trading you are not following a step-by-step guide that anyone can follow making guaranteed profits.  There are steps but then there are also decisions you need to make and traders will not all trade the same way. Things like when to enter and when to exit. Also how to react to certain events and your tolerance to risk. But I think this is what is exciting about trading and your stakes are only limited by the market(s) you are trading, which can be a lot more than the £5, £10, £20 that are common when matched betting.
(Me) What do you think are the big pitfalls for people who want to get into sports trading? Where do you see people go wrong?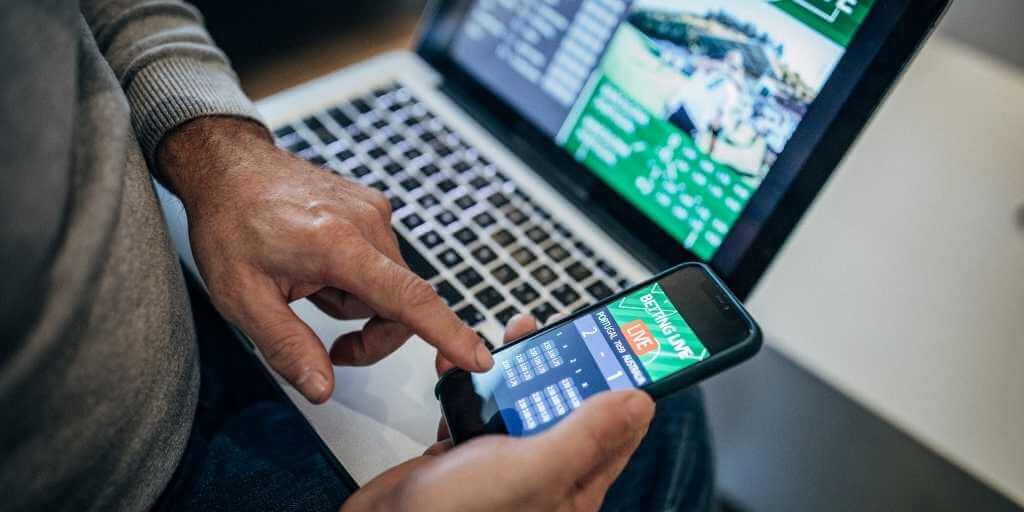 (Ricky) The big pitfalls I see are perhaps people going in too quickly or using far too large a stake.  You then either start off poorly and give up or start off well and think you have cracked it and then lose and give up ☹
I would always advise setting aside a trading bank you are comfortable with to put at risk and start off on the minimum stakes. I'm not one for paper trading. I feel you need to have some sort of risk/reward to actually place and execute the trading strategy.  Keep good records and review regularly.  If things are not going well use your records to see if you can identify areas where you can improve. Then you can gradually (I do mean gradually) increase your stakes while continuing to keep records and review.
(Me) Can you do this part-time? Like, as a side hustle, just a few hours per week? Or, do you need to sit in front of horse races all day?
(Ricky) Sure, sports trading part-time is fine, and where everyone should start. But be professional but let it fit around your lifestyle.  There will be certain days that are better for some sports. There are football and tennis matches being played every day at all times of the day to help with this.  The research into potential trades will also help highlight the best time(s) to set aside to trade and this is where the site and tools will hopefully be of benefit.
(Me) I have done some sports trading before, last year I grew a small pot from £150 up to around £600 but then had a really bad day and lost about £200 in one go! That put me off a little and I was reluctant to get back into it. Do you think that attitude and discipline play a huge part of it?
(Ricky) Attitude and discipline play a very big part in becoming successful.  Increasing your bank from £150 to £600 is very good going but referring back to my previous comment re pitfalls, it sounds like you may have thought you had cracked it or were using too high stakes in comparison to your trading bank. You do need to have the right attitude and be disciplined when trading. 
Ideally, you will have a clear strategy so you will know how to execute the trade(s) depending on how the event plays out.  Emotions play a part and not letting these get in the way is crucial.  Over-trading can be difficult to control.  If you are winning you can quickly be overconfident, when you are losing you can easily start to lose your discipline and try and chase your losses and start trading events, markets that fall outside of your strategy and research.
(Me) We always like to end on a tip, so what's your number one tip you can give to someone who wants to get into sports trading?
(Ricky) My best advice would be to:
Set aside a trading bank you are comfortable putting at risk, I know you don't want to lose but you need to be comfortable emotionally and financially should you do so.
Have a clear strategy and stick to it using minimum stakes.
Keep records, always keep records of your trades, the more details the better, including how you feel emotionally when trading as this can help and identify times when if feeling a particular way you should not be trading.  If trading football there may be certain leagues where the strategy works great but not so in others.  Likewise in other sports, the more details you are able to record the better you will be able to review and evolve.
Keep your discipline and emotions intact, trading takes time to learn and be profitable.  Do not get carried away by a good or bad start and if you feel you are getting too emotionally involved STOP.  Understand why and adjust.  There are many reasons but for example your stakes may be too high and you are getting nervous about the amount at risk, if this is the case LOWER YOUR STAKES so you are able to trade without the emotion and feeling you MUST win.  No trader wins 100% of their trades but they are able to continue any losing trades and execute the next in the same way (unless you know you made an error 😉)
Take a look at our tools. The service is in its very early stages but we have tools covering Horse Racing & Football (Pre match & Inplay). Getting in early locks in your great value subscription for life as we add to and improve the service.
Final Thoughts From Me
First of all, I would like the thank Ricky for providing such useful, actionable, and valuable information during this spotlight.
My thoughts with sports trading are as he says, take it slow. Learn the process and start with a small pot you can afford to lose.
I made a very simple video here showing the basics of backing and laying:
I would also like to second the part where he says about gathering information. Stats and data are vital if you are to develop your own strategy and find an edge.
Ricky and his team can help with this, in fact, I have been using their daily email to grow my own trading pot balance. They are well worth checking out! (You can make a steady side income just from this alone!)
Head over and sign up here.
If you are new to sports trading then take things at your own pace, it's not a race. I am not an expert or full-time trader but even I can say this to you.
I have grown pots to decent amounts and lost vast amounts in a matter of hours. It can be a steady climb up then a big fall down if you are not careful.
But, there is light at the end of the tunnel. With discipline and your own edge, you can make a very nice tax-free side income. If you like numbers and stats this will be right up your street.