Would you like to become a full-time UK eBay reseller? Maybe start your own little side business and scale it so that one day it could in fact replace your day job?
Well, I recently hooked up with Pete who goes by the name ChaddyPete on his social media channels. He has done exactly this as is now resells full-time on the eBay platform.
Pete is based in the UK, but this should not limit you. This can be done anywhere where eBay is accessible.
We dived into the ways in which he was able to scale his business to start earning a full-time living wage from it.
In this interview you will learn:
What products sell and how to find them
How you can never lose money when buying items for sale
What a typical day in the life of a full time reseller is like
Some of the dangers when starting out
His number one tip for anyone looking to get started into reselling
Plus loads more.
This was a really great interview. I certainly took a lot away from this and I hope you did too.
Links to his channels:
For full transcription, you can read it here:
John: 
Welcome to this Spotlight edition where I'm going to be talking to Pete, aka "ChaddyPete", about what it's like to be a full-time reseller over on eBay. Let's get into it.
---
Welcome. This is a Spotlight edition. For those of you that read it on the blog, you'll be familiar with that. This is the first one that we've done kind of like a live, sort of face-to-face chat.
And I'm with Pete Amuah tonight, aka Chaddy Pete, as he's known on his social media channels, Instagram, and on YouTube. And we're going to be talking about eBay. Specifically, sort of going from part-time into full-time eBay seller.
How are you doing Pete? Everything is alright.
Pete: 
Yeah, doing well. How are you doing?
John: 
Yeah, good. Thanks. Excellent. So if we just start with you giving a little sort of overview about yourself, how did you get to where you are now?
Pete: 
Okay, cool. So basically, I was born in Oldham, up north and long story short, I joined the police when I was 25.
John: 
Oh really.
Pete: 
I thought that was when… that was it. For me back then, I was going to go down my career, do my 30 years or whatever, and retire and that was it. But basically what happened was my wife started doing her side hustle kind of business.
John: 
Okay.
Pete: 
It kind of got me thinking that there's money outside of the 9 to 5, which I didn't think was possible. And it opened up a whole door, a whole new world to me. I saw a video by Gary Vee, talking about selling things from home.
And this was something that resonated with me so I thought, I'm gonna give it a little go. And I sold my first thing and I was hooked on it. I went to a charity shop. And bought a tie for a pound or something, and I put it on eBay, I sold it for £12.50. And that was it, my mind was blown.
John: 
[Chuckles]
Pete: 
It's the possibility of them being able to just buy something from you for a profit. That was it. Then I was hooked. Then I stayed in the police for a couple more years. And then my second daughter was born, and I had the opportunity to take parental leave. And during that time I was kind of working out if the business worked and stuff. And I decided not to go back to the cops. And that was it. And I just worked at it full time.
John: 
Wow
Pete: 
And doing it ever since
John:
That's amazing. Yeah, I think I think everyone kind of remembers their first sale, don't they?
Pete:
Yeah
John: 
For those that sort does it.  I mean, not like everyone that sells stuff that they flipped at home, but for everyone, that sort of the first sale where you've bought something and then sold it on?
Pete: 
Yeah, yeah, because it's that initial risk, even though it's one pound, it's a little bit of a risk, though.
John: 
Yeah
Pete: 
Because you just think, what am I doing? I could just spend this on something, which is like food or something, and that's it really…
John: 
That's the beauty of eBay I think, it is almost like once you get into it, I mean, we'll talk about this a bit more later on. But I think once you kind of get into it, and you get a kind of a feel for it, it almost becomes risk-free, doesn't it? Because….
Pete: 
Yeah, basically, yeah
John: 
You kind of know what stuff is gonna sell for. So basically on that, I'd like to move on to something for those that are listening, that are beginners, or the people, we're kind of taking it back a step. So how do you go about researching items? I mean, for the… we're going right back to the basics here, for someone that wants to, they want to get into this, they want to start up as a side hustle.  Where do you kind of start?
Pete: 
Well, this is one of the questions I was always trying to think about, and I think the best way, I kind of summarized it was personally for me to start my experience was I built up what I called a "no library". So it sounds weird, but basically, you go into a shop, because I think that's the best place to start you to go into a shop and experience and just know what's there on a routine basis.
John: 
Yeah
Pete: 
And it's the hardest thing to do, but to build up a "no library". So basically, go through things that you see. And know that for definite this one sells itself if that makes sense.
John: 
Yeah.
Pete: 
So go in. And as you kind of build up this knowledge, eventually, there is something there, which is either something that you don't know, or it's something that you can sell. And so when you have that kind of library in your head, you can go through things a lot quicker. And things just stand out easier, because it's either I don't know what it is, so I need to check it. And it could be a no or it could be yes. And that's it.
John: 
Yeah
Pete: 
And so that takes time though, that takes time building that up. And when I first started, I made the mistake of just buying things I thought were good. Instead of just researching it properly, taking it home and stuff.
John: 
Yeah Sure.
Pete: 
And so that's what I would normally say, so that's what I started doing. I started just going through the shop meticulously. Sometimes I'll come up with nothing. Maybe one item for the whole day, but I knew that the knowledge eventually would pay dividends.
John: 
That's brilliant. Yeah, that's useful… That's a really good point. Because I think a lot you say you can get a bit carried away. I think in the beginning people just start buying up stuff that you think that'd be fine. You don't want stuff hanging around. I mean, I like the sort of quick flip.
So I mean, I'm not gonna claim to be full-time like you guys, but I don't like stuff hanging around for months on end. I know it's okay, the long tail items are not too bad. But yeah, you kind of build up an idea, don't you? Now, to me, I can go into a shop and skim through 80% of it, you know that 80% of it is nothing right?
Pete: 
Yeah.
John: 
And then you've got the sort of brands that you kind of know of? Yeah, as you say, if you see an unknown one, you just look it up, and that happens all the time, it does. Yeah.
Pete: 
So if you start new, and you don't have that "no library", everything has potential.
John: 
Yeah, yeah.
Pete: 
Cognitive dissonance comes in. Well, even if it's not a brand, you might buy it for a pound, I could probably sell it for £10.
John: 
Yeah, exactly. Yeah, exactly.
Pete: 
Well, then the problem is you bring it home, and no one wants it. And then that's when it starts. "Right, okay, I need to work out what I'm doing."
John: 
Because I know this. Now, you've got your own YouTube channel, which is amazing. We'll drop the links into that. And I've been watching some of your videos. And I mean, you…. and you've got… your good lady with you. And you pick up some insane stuff.
I mean, in the recent videos I was like, "What the hell!" some of the gear you pick up is unbelievable. So I'm talking about, do you have a set target? Do you try to double your money, triple your money, fivefold it?  I mean, when you're prepared to outlay £20, What kind of return are you looking back on?
Pete: 
So, in a couple of videos, I mentioned a thing called the five times method. I don't know if it's a rule anywhere else. So like, I've tried five times. I have to keep it simple. Because when you go into a shop and you see a certain item, and then it's like it's out of your budget just a bit, but you think about this commitment, a lot of money, you start getting that emotional connection to it.
John: 
Yeah
Pete: 
After the break, yeah, to kind of break that emotional connection, I have a specific rule. And the system works. So I've decided on the five-time rule. So let's say, for example, in one of my videos I find a mosquito shirt. Nice. Like it's like £15 a pound, and £15, I wouldn't normally spend that on one item.
But this shirt was so nice. I was getting drawn towards it trying to tell myself "Yeah, you can buy these just sell them." But then I told myself, I need to times it by five if I can't sell it by five comfortably I'm going to leave it.
John: 
Yeah
Pete: 
So I checked through. And I, unfortunately, couldn't get it. I couldn't get it to £75 to sell.
John: 
Right.
Pete: 
So I decided that I needed to leave it. Like as a matter of thinking, well, you could sell for £40, you could sell it for £35, I said no, I'm not going to do it. Because what happens is, you buy it, you buy it to sell for £40. You put up £40 so someone offers your £30. And what do you do?
John: 
Yeah, sure.
Pete: 
So then two years down the line, this will sit in the shed and you end up taking £20. Because you set it aside.
John: 
Yeah
Pete: 
So get rid of all those roots, just stick to the gun, keep the rule strong. And that's how I do it anyway, that's why I need to keep that rule or else I get attached. I love clothes. I love clothing. So I will get attached with it very easily if I didn't have a rule in place.
John: 
That's really [Chuckles Softly], you must have some discipline to be able to do it like that.  I'm not… I'm not sure I could do it. Yeah, five times is… Yeah, that's a really good return. That's brilliant. So what's a normal day for you? If you're out sourcing or is it listing all the time? Or do you do a mixture of it all or…? 
Pete: 
So, recently just at the end of last year and the start of this year, I started to be a bit more systematized. So I go out once a week. And then I have another full day where I list everything, put everything away, and generally take pictures of things and that kind of stuff. And then every day I'll wake up and I'll list at least five items.
I try and do like ten but at the very least I'll try and do at least five and I hope the plan normally is on Monday I've got enough stuff that I can list for the week. And then when it is Thursday I can just come in and fill up the backlog.
I live in my shed the rest of the day just doing all the other work. I'm listing here and maybe checking in to do a little bit of research and things but maybe nipping out with the family. Like we'd like to go out in town or something. I'll go to the park and then we might pop by a charity shop.
John: 
Yes, yes.
Pete: 
And, yeah, that's how it is really, I try to balance my family time and my work time. And I try to leave it more on family time because to be fair….. I do enjoy just chilling and [Chuckles].
John: 
But that's, that's kind of the beauty of, why you do what you do? I guess because you're your boss and you can tailor your hours to, I mean, obviously, the sourcing, you're limited to the when the shops are open, but the rest of it… 
Pete: 
Yeah
John: 
You can hang out with the kids and stuff. And then you could go back and do your… your grind if you want in the evenings. And that's the beauty of it. I mean, I tend to do it all in one day. So I tend to, I mean, I'm very much a kind of a part-time very, very much part-time.
But I kind of do it really to kind of show people what's available, what you can achieve, what's out there, and so I tend to do mine in one hit. I'll just source dribs and drabs in the week. And then I'll just do like a one-off session on a Sunday or something like that, I mean, just to kind of get it all out.
Another great community, full of side hustles and like-minded individuals is the Side Income Tribe on Facebook! – JOIN HERE!
Pete: 
Yeah
John: 
But yeah, that's good. Really useful stuff. So we've talked quite a bit about the sort of glamorous stuff. The benefits, if you like, the, you can get some amazing returns. It's scalable. To a degree, I think you are limited by a couple of factors. You, yourself, what time you've got available, space storage, people laugh about that.
Pete: 
Yeah
John: 
But, if you want to take it to insane levels, then I think you do need to kind of be wary of that. So what would you kind of say are sort of like the kind of pitfalls and the sort of not dangers, but the risks if you like for people just starting out, you know, what should they be a bit wary of?
Pete: 
I think one of the main things to be wary of is getting hooked on a trend. If that makes sense.
John: 
Yeah
Pete: 
Have an understanding of what the trend is. So the minute with COVID, and stuff, a very big trend is the 2000s. That's very big at the minute. So everyone's buying that kind of stuff. But the danger is you just end up buying all this stuff. And it's not all valuable. Certain things within it are, but you must be careful not to get this tunnel vision, buy lots of stuff, not understanding why you're buying it, you just think well, everyone says this is good so I am going to pick it up.
And that's understanding. And that's one of the pitfalls when you get stuck, and you don't know why it's not selling. And then you get frustrated. And again, they have to start at a very cheap price. Not making much money on it at all. Yeah, I think that is a pitfall. I think a very big one is just not doing the work if that makes sense.
John: 
Yeah sure.
Pete: 
I buy items because it feels good when selling them. Or I should point them to work because it's not fun. It's not the best, or it's not the most fun thing to do to take pictures that you've already bought. Because that's not what the buzz is. Because the buzz is going out finding stuff.
John: 
Sourcing all the time. Yeah.
Pete: 
Sourcing. And so people prefer to do sourcing but it's a business anyway if it's on your bedroom floor then it's not getting sold….
John: 
Yeah
Pete: 
…if that makes sense. So that's one of the biggest pitfalls, building up a pile of a backlog of items, and never actually getting into them. And I see that happens a lot of the time to people. Sometimes I feel like people hide a buying habit or like a shopping addiction, behind a re-selling intention. So we'll say a reseller goes out every single day. But they don't do any of the work.
John: 
Yeah
Pete: 
They bought this but never actually put it online. They just go out sourcing all the time. But never list.
John: 
Yeah.
Pete: 
So you need to kind of be disciplined in a sense of just making sure that you are doing the boring bits as well.
John: 
Yeah, that's absolutely right, yeah. That goes back to what you said earlier about systems. They're really important. We do a lot of this at work. And I've talked about it quite a lot over on the blog about actual systems of work.
Pete: 
Yeah
John: 
And again, it goes back to sort of discipline as you say, they're not making any money if they're sitting in the box. You can source all day long, and you can have crates full of clothes, but that's no good at the end of the day, is it? So that is that… the monotonous part is the kind of the photos and the listings and stuff like that. But I think once you get a flow, I mean, I used to start off doing it all on the laptop.
So I used to quite like doing it all, uploading the pictures to Dropbox and then sitting and typing it all out. But now you can run the whole thing from a mobile phone. I mean, if you've got a half-decent mobile phone, you don't even need to worry about laptops anymore.
And it's easier now like you say you can just clone previous listings already on there for those that don't know, you just go into sold items, then sell similar, and there you go.
Pete: 
Understanding about companies, which I appreciate now. In the police, if you dealt with an incident, you had to go back to the station, type a log of what he did, where it was, what time, the circumstances, and that could make you late. But when you are trying to investigate a later crime, maybe a few years later, and you've got all this information, someone took the time because they had to.
John: 
Yeah
Pete: 
You have to make sure it's all written out properly, it makes your life a lot easier. So when I bring things home, like my first thing to do, before I can get into the shed, it has to be put in a spreadsheet.
John: 
Oh wow, Okay
Pete: 
It can take a bit of time, but I like individually itemizing everything, making sure I know where it came from and how much it costs. This makes it easier when trying to find stuff when they sell.
Because there's no custom label anywhere else, I can look in my spreadsheet, look at the item above and below it. And I'm able to then find the item. It's always very boring and monotonous at the start but saves me at least an hour of going through boxes.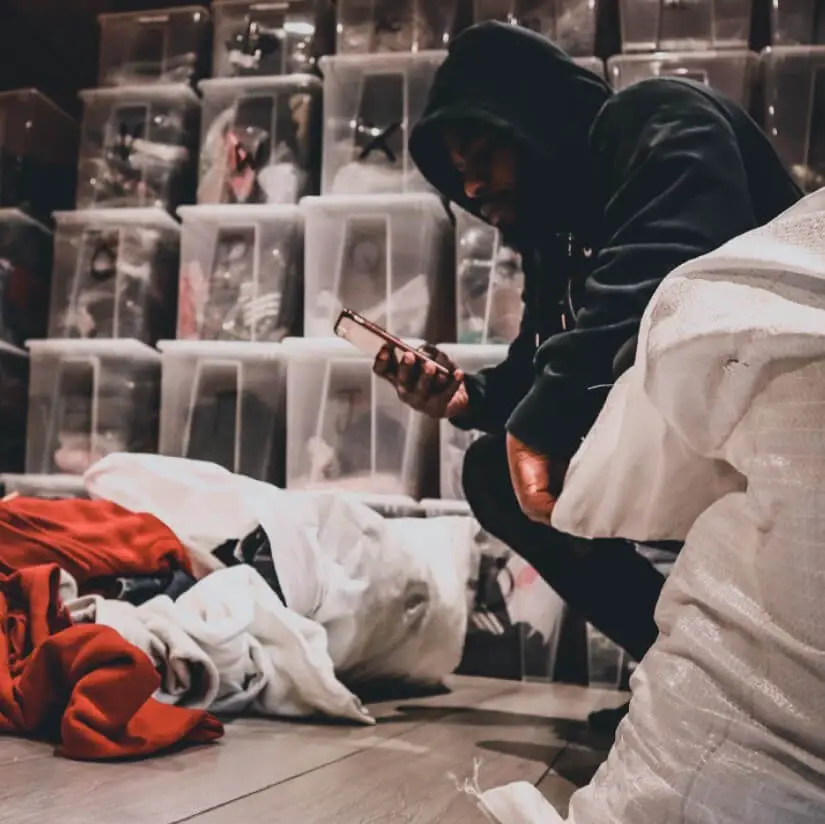 John: 
Have you got a system then? Because I noticed when you do your videos, sometimes when you're doing an on-camera chat, there are loads of boxes in the background, have you got kind of a method?  I mean, when you've listed it, you put them all in a certain box or you know, I mean, so you know where to pick? Is that what you're talking about when you do the spreadsheet?
Pete: 
Yeah. So basically, initially, what I do is I will bring the items in, I'll go through it and make a list on my spreadsheet of every single item I picked up. So then I know how much I've spent, I keep a budget on a certain level. And I know where I've been as well. So I don't have to keep going in. I don't go to the same place twice a week or so.
John: 
Okay.
Pete: 
So when I take it into the shed, I take pictures of it all. And then I've got these big IKEA bags like these clear IKEA bags. And I put them all in resealable bags and bring them back. And once they're in the resealable bags, I then go through and get a box out, let's say like the white box. And then everything I put in that white box, I put a custom label on eBay. They say like what it is and maybe the date?
John: 
So then you know, okay.
Pete: 
So then on the… on the other side, that means when it's a call at 10 orders, I know exactly where they all are. And it makes it way quicker, then, if in the box on the floor, if that makes sense.
John: 
That's brilliant. That's good. Yeah, I can imagine that can get a bit tough as you say when you're trying to scale it up, those sorts of steps are important to start out from the outset you know if you're going to plan to do this.
Pete: 
If you have to, I'll say that because I made a video about it. I said if you have to put your items in more than one place, whether that is having to put it in two bags, or two boxes, that's when it's best to keep an inventory.
John: 
Yeah.
Pete: 
Because then even if it's just oh, it's not in this box in this box, it still takes an extra minute to find it. Now, before I started doing this, I had an order like once a week. But another day I had like 25 orders to go out and do it just in bags, that… that process took me about two hours just trying to find all the items.
John: 
Wow, Yeah
Pete: 
Because I had like 12 bags, and I'm trying to go through, and then I miss one back through the bags because I'm not sure if I missed out the first time. And it becomes a nightmare. If you prepare and organise it takes the stress off completely.
John: 
Because that again is going back to what we said having a system in place. If you do these things from the outset, then it's a great help going forward.
Pete: 
Yeah
John: 
Okay, so what would you say? Is your favorite flip? Do you have a favorite flip of all time? Now that I've seen some of your videos so I've seen some of them on there. Unbelievable. But do you have a personal favorite of yours?
Pete: 
So there's a couple like, so I've got one which is like my best, a pair of £110 trainers went for like a grand, just under a grand, like something like that. But sneakers are like a different kind of flip.
John: 
Yeah.
Pete: 
But I remember picking up a camera like a big old vintage video camera. I can't put my finger down on what it was, and it turned out to be not their actual one but it was the camera that they used Back To The Future.
John: Wow [Chuckles Softly]
Pete: McFly uses the one for the DeLorean he recorded. I think it's called JVC…
John: I know, the Camcorder thing. That goes over the shoulder, right?
Pete:
Yeah, so that one over the shoulder. That exact one I bought for £20 off a guy who had it in his loft for like, 30 years, and I found it sort of interesting. And I ended up selling it to a lady in Germany. She wasn't on eBay. She sent me an email, literally begging. "Can I have this camera because my son has some sort of Back to the Future conference thing" and she'd gotten a DeLorean gift or something….
John: 
Because of that…
Pete: 
This is the final piece and she paid like 300 pounds for it to get it sent over and everything. For me, it was like one of my first sales and I thought it was not the biggest one, but it's one of the best for sure.
John: 
Definitely. Yeah, definitely. Yeah. I mean, I've got a couple but they're not quite as glamorous as that. But one of the ones I've done was last year's actually when the car boot sales were back on.
Pete: 
Yeah
John: 
I'll never normally bother with these. But you know, like, when you get the sort of house clearance lots, you just see a load of boxes. And the people aren't even interested in what they're selling, everything's like two pounds or a pound or something like that. And it's mainly just junk, you mainly get a load of bric a brac, and saucepans. But I picked up this item. While I didn't know what it was, to begin with, as a sort of mini-UFO.
And, it has Guinness written on the side. So I kind of knew it wasn't that. And I spoke to the lady. I said, "how much do you want for this?" She was just like "Two quid". I was okay, that's fine. And she said, sort of in passing after we had done the deal, "that's for warming up lattes". And I don't think Guinness is in the hot beverage industry. So, I just sort of palmed off and said "okay, thanks".
It turned out it was a surge plate, which you can buy for the cans of Guinness now. And they pour it in it and then you put them on this plate, and it kind of surges it up. And so then you get what a draft pint would look like. It sold for someone like 160 quid, absolutely mental. Yeah, because it was peak lockdown. Everyone was making home bars.
Pete: 
Yeah, yeah
John: 
I mean, like garden offices and having bars and parties and whatnot. So it was perfect. And that was… that was just perfect timing.
Pete: 
I feel like that kind of flip is the essence of why anyone does this.
John: 
Yeah. [Chuckles]
Pete: 
It's that thing where you see something that's interesting.
John: 
Yeah.
Pete: 
And it's… It's not just interesting. It's also valuable…
John: 
I wasn't in deep, it wasn't like a 50 quid, or what do I do?  It was one of those things, you don't even need to look it up. I'm not gonna argue with two quid. And then sure enough, when you go and have a little look at it, it was brilliant.
And it wasn't like mine wasn't the only one there. There were loads of them there. So it's kind of one of those things now, it always goes in the knowledge bank. And now you've got it, you just keep a lookout for stuff that yeah…
Pete:
Luckily, you know what, it's funny as well. Like, in my last video, I said, there's a bit in the video where we were in one shop, and we didn't find much in the shop. And I pick up a pepper mill, right? And I'm just like, "Oh, well, Lola, what do you think of that? She just rolls her eyes on it, I put it back down. But, I had about three comments afterward saying that this is a Sergeant Lonely Hearts Beatles peppermill
John: I know… *Laughs softly*
Pete: 
It was worth £70. I was just like, "Oh no! I've dropped a clanger!" But I picked it up because it looks interesting.
John: 
Exactly. Yeah.
Pete: 
And I think that's another piece of advice which you can have "What interests you doesn't necessarily interest everyone else."
John: 
Absolutely.
Pete: 
You need to find out why you're interested in it. So yeah, I wish I did. I wish I took my advice then!
John: 
But that probably happens almost daily. I would imagine. When you go out sourcing, I bet you pass stuff all the time. 
Pete: 
I know, I know…yeah
John: 
It just happens. Doesn't it…?
Pete: 
Yeah. And that's the beauty of it. There's always more to learn in this.
John: 
Yeah, exactly. Yeah. I'm sort of getting the impression that your main kind of niche is like men's clothing. But do you kind of drift into other sorts of niches than the men's stuff.
Pete: 
Well, I started off reselling, selling toys, and…
John: 
Good… that's a good entry point.
Pete: 
I think people think because they watch a video saying "oh, well, money's in clothes." "No money is in whatever you have a passion for."
John: 
Yeah.
Pete: 
I honestly believe that and there are people out there who sell toys and they make so much money, some people sell vinyl, make tons of money, some people sell trainers or even… probably even pens! They make and live on like beach money doing it. There's always a market for everything.
John: 
Absolutely. Yeah, my kind of go-to is trainers. I love trainers. And I think you could niche it down. I've seen proper eBay shop fronts and that and there are people that just sell one thing in there. You get like the just the trainer sellers or, you know, just the second-hand Levi's sellers or just the vintage clothing sellers. And yeah, like when they kind of niche down, they kind of become the expert, the real experts in that kind of niche. And then I'd imagine they get a lot of repeat customers because they're not messing around. They're just specialized. And I'd say they get repeat customers.
Pete: 
If you look on eBay, there's a, I don't know who it is at all, but there's a particular person who sells Fred Perry polo shirts, right?
John: 
Yeah
Pete: 
That's all they sell, but their pictures are quality. They know everything about each model.
John: 
Exactly
Pete: 
It's just nice to look at. And it's really good because I feel like I'm at this point where I've kind of semi niched down on quite a few categories. So I've kind of got a working knowledge of, let's say, if I landed in a bin full of Levi's, I would be able to tell which ones I should be just at least grabbing.
John: 
Yeah.
Pete: 
I know just by how the badge is positioned for example?
John: 
Yeah,
Pete: 
And that's what I like. And I said, like, if I went to a room full of Levi's, I know which one stands out.
John: 
Yeah.
Pete: 
That's what I always try to aim to have in each category. Not just I like it because it's nice.
John: 
Yeah. I think I agree, as you say, it is a knowledge game and you only get that by just doing it. And getting out there and getting amongst it, even probably even picking up a few duds on the way and we've all done that.
Pete: 
Duds are what makes us.. [Chuckles]
John: 
Exactly, yeah, we've all done it. And, yeah, and then, as you say, once you start building up that sort of knowledge, you can kind of get a bit of a specialized sort of feel for certain brands and certain categories and…
Pete: 
Like Levi's, I do enjoy selling Levi's, but I leave 95% of them. Yeah, maybe 501s, I only look for a very specific type of Levi's. I want to find them. I'm happy like I'm dead happy, but very few and far between, so people just see, well, there's Levi's everywhere.
John: 
Yeah
Pete: 
But for example like you go into a shop and have like five pairs of Levi's and they're 20 pounds each, but there's one in there, which is a 20 pound one, which is worth at least 250 pounds that's mint and that's what can happen if you learn and take the time. If the patch is close to one of the belt loops, there are so many things you can he can learn and that's what I enjoy about just clothing at the minute because that this is not just clothing, it's just so much about it.
John: 
Yeah
Pete: 
This is significant…
John: 
Sort of like a pop culture with certain things isn't there?
Pete: 
Yeah, Exactly
John: 
There's a whole kind of movement around certain products, certain brands and you know, and that comes again like you can list stuff with a little bit more experience. I mean, I see listings, and I think that "That ain't gonna do that well." And then I see other listings where you can tell they've made the effort, the research is there there are words in there that may not even be on the product, they just they go to the next level and people are looking for that they're looking for that specific type you know, so you can whack another 20% on it. But what about fakes you got to be a bit careful of those only I mean, there's a lot of fake stuff out there now isn't there?
Pete: 
The thing is, fakes I think when you spend a lot of time with clothing fakes stand out like a sore thumb.
John: 
Yeah
Pete: 
Just some examples, like ones that get faked all the time, are Lacoste and Fred Perry.
John: 
Right.
Pete: 
So you look at something like the Lacoste or you look at the Fred Perry logo and immediately, Ralph Lauren for example. You look at the label and you're like it just looks a bit sideways like you're looking at a logo it's like…
John: 
Yeah
Pete: 
…Like it's tilted. And then you look at the bottom label straight away you know it's fake but that takes time and the emotion can get you… I mean when I first started like simple things like Stone Island stuff, I look at it oh wow Stone Island, and just grab it. I don't ask any questions, I just grab it and go, and when you bring it home it's completely fake.
John: 
Yeah, yeah
Pete: 
Yeah, that's what used to get me down. But it takes time and I think sometimes if you are not 100% sure and the price is a bit too high or price is a bit heavy, just leave it.
John: 
Yeah, I know
Pete: 
If you make a mistake you make a mistake but I mean some people think I need to have it and then they bought it and isn't worth anything
John: 
Yeah, because it can land you in a bit of trouble if, you know, you don't want to, you're gonna run this as a business and this and that. You don't want strikes on your account.
Pete: 
It's illegal to sell a counterfeit.
John: 
Well, exactly. Yeah.
Pete: 
eBay will take you off the system.
John: 
I've had a couple before but I didn't sell them. But I bought a couple of, me and you were chatting actually, the other day I looked at our Instagram chat and scrolled back. And we'd spoken about this years ago. I picked up a couple of Hermes… ties And was like, they look legit. They look the business. But yeah, absolutely, completely fakes.
The other one was a pair of Yeezys. I had them a while back, and they were so good, they were stitch to stitch, box and everything. I bought them from an auction house. There was nothing wrong with them as far as I could see.
And I had to go on like authentic pages and this and that and yeah, one bloke said something about, there was one or some word the wrong way round, and yeah, it was so minor.
Pete: 
Yeah, with the barcode numbers, ones are different from the American ones from the European ones. And if there's one not right, and it can be it can just be a number wrong.
John: 
Yeah. Yeah. The other one we did… we did get some Hermes actually. A while back, but it was the shoes. So it was like women's shoes. And yeah, they did well. That's a massive brand. But I mean, it's one of those really rare once-in-a-lifetime finds.
Pete: 
Yeah. Yeah.
John: 
Okay, so wrapping up then. And we're just going to kind of draw it to a close now, though I would like to end this sort of session with kind of a one-off tip. So like, what would be your number one sort of tip? Again, for beginners or for anyone that's thinking about getting into reselling, or maybe just, you know, they do a little bit, maybe they want to scale up a bit. So what would be your sort of closing tip for today?
Pete: 
I think my closing tip would be to, I'm not sure who said it, one of these old presidents very aggressive, sharpen your ax, sharpen your ax first, spend the time researching everything, get an understanding of what you are trying to sell whatever it is dolls, trainers, clothes, take the time to understand that culture. And then go into it. And then you'll understand them and you'll be able to, you'll be able to be creative with what you pick up and you'll understand why it will sell instead of just knowing a brand.
John: 
Yeah
Pete: 
Just do that research. Spend the time just looking at that… like look at just what sells, what kind of clothes, why they sell all this kind of thing. And when you do that, get that passion, wherever it is like I said in Dolls, Toys, Trainers, Cutlery, whatever, it will make your life so much easier. And you'll end up keeping making more money because you're not spending as much. If that makes sense.
John: 
Absolutely. Yeah, brilliant. Okay, well, thanks very much for that. That's been a great interview, with really useful takeaway tips in there. Hope you all enjoyed that.
So I just want to say thanks very much. I wish you and your family all the best. And no doubt we'll be kind of keeping in touch. And yeah, so thanks very much again, and stay safe.
Pete: 
Thank you. Cheers. Thank you!
John: 
So there you go. I hope you enjoyed that, loads of really good points there for anyone thinking about starting up reselling on eBay. Maybe you are already doing a little bit, maybe you just want to scale it a bit more. There's loads of really good advice in there, loads of really good key points.
Related posts & spotlights on the blog:
Why not jump on the weekly newsletter with the other 600+ side hustlers?