In this spotlight we hand over to another great Instagram story. I met Louise in the reselling community when I was doing bits and pieces on eBay, learning a lot from her in the process.
She has a superb Instagram account which I highly recommend you follow.
You can check it out here. @IndieChickEscapes
(Hence the title of the post, I don't randomly call people Indie Chick!)
She has a superb knowledge of electrical goods, a whole wealth of vintage and more recently she has got into selling clothing. Stuff you will find in most charity shops in the UK. So without further ado lets dive in with this interview. Over to Louise.
(ME) Hi Louise, thanks for doing this. Can I please start off with you giving a bit of a background about yourself and how you came about to "escape the rat race" as you put it on your Instagram bio?
I worked as a lecturer in accounting, and finance for 17 years in further education.  In the past, I struggled with debt and had a lightbulb moment back in 2003 when I decided to pay off all my debt and focus on building wealth.  I completely changed my attitude towards consumer spending, cutting back on almost everything and learning to live happily with less stuff. 
Almost overnight I became obsessed with gaining financial independence and after the debt was gone I focussed all of my effort towards growing my savings and investments.  To quicken up the process I took on extra work as a freelance accountant, did mystery shops, matched betting and started selling unwanted and unused personal items on eBay and at car boot sales. 
At one point my husband and I were investing 70% of our income and we hatched a plan to leave our jobs for good.  Neither of us disliked our chosen careers but we longed for the freedom to live life on our own terms and realised that we could survive on our investment returns and a small income of less than a quarter of our previous earnings. We still had the odd holiday and treat but always kept our end goal in mind.
I had a date planned when I would be able to leave my job but decided to dip my toe in the water by arranging to take a 1 year sabbatical which was planned for July 2017.  Unfortunately, that plan did not come to fruition as I became ill in January 2017 with anxiety and total burnout so I made a decision to hand in my permanent notice in October 2017, thankfully it all worked out for the best in the end and I look on this period as the push I needed.  There is no intention to return to paid employment again.
(ME) That is an incredible introduction. What is your main income from these days? And how did you first get into this?
The main income is from reselling on Ebay, mainly vintage electrical and household items and more recently clothing.  I guess that I discovered this like most people do, by selling my own unwanted stuff.  I have two grown up boys and was shocked to find how much their 1990's toys were achieving on Ebay. 
A lovely friend sent me some links to the YouTube channels of Nic and Andrea Hills, Caroline Mrs M and Ben Fitzpatrick and I spent hours and hours pouring over their sale and haul videos.  Also, I have quite recently turned a much-loved hobby into a second income and qualified as a Yoga instructor in September 2018.
(ME) A Yoga teacher! This sounds awesome, how do you juggle your reselling and yoga clients?
The great thing about selling on Ebay is that it totally fits around my lifestyle.  As my husband works alongside me he happily works on the reselling business when I am off taking Yoga lessons.  I am a believer in reverse engineering your lifestyle so that I can do whatever I like and the income generation fits around that.  If the day is sunny I pack up and go to the beach which is why I decided to offer Yoga classes on an evening rather than during the day and if I fancy some time off I will take it.
(ME) How long have you been selling on eBay? Was is something you ever thought you could earn a living like you do from it?
On and off I have been selling on Ebay for around 3 years but my husband registered as a business in April 2017 shortly after he left his job.  At first we both thought it would just be a nice little bit of income to tick us over until we decided what else we wanted to do.  I have been amazed at how quickly the business has grown and how much we both love it.  It took around 1 year to replace one of our full time incomes which was something I hadn't expected at all.
(ME) You are also involved in the ever-popular trend #growyourpound hashtag, which me and the kids love getting involved in! What was your motivation behind this?
I have to give the credit to Carla Jenkins from the reseller YouTube community for the idea behind this challenge but I thought that the Instagram community would be a fun place to share it.  It amazes me that there are unwanted items readily available for as little as £1 that are good quality or collectable and worth much more on Ebay. Loving a challenge I wanted to find out just how much profit I could make from a single £1 item, selling it and then repeating the process again for a 1 year period.  Last year I made a profit of £367 with 16 items.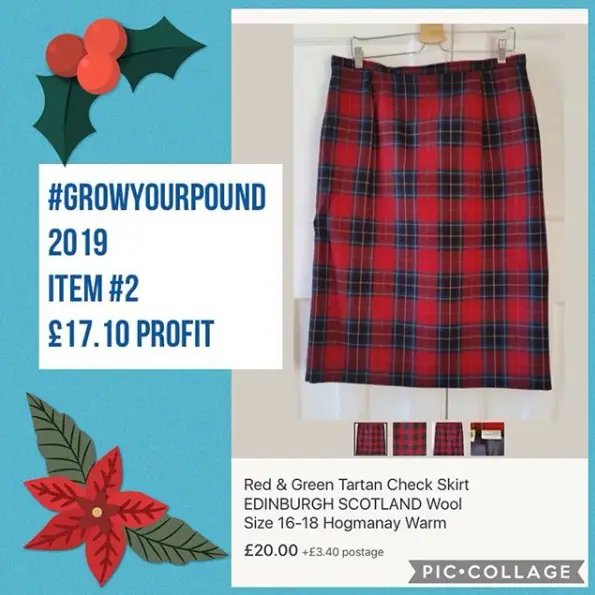 (ME) You have a great following on Instagram and I know you play a huge role in the resellers community on there. Are there any accounts you highly recommend people follow that inspire you?
There are so many successful resellers on Instagram so it is difficult to pick out just a handful but I guess my favourite at the moment are: Fakerachelreseller who has been an inspiration right from day 1 for me.  Her own knowledge is incredible but she continues to learn, share and give credit to others while supporting those who are new to reselling. Chaddypete, tribsflips and Ianresells for their incredible knowledge of menswear.  I also love Shellsterh who makes me laugh out loud with her Insta lives and who always seems to be on trend with the latest best selling items and is completely honest and direct.
(ME) Thank you Louise for being on the blog, it's always great to get insights into other people's side hustles and how they got into the business. As we always finish off though, what would be your Number One super-hot tip for any new sellers thinking of getting started?
Tempting as is may be to follow others the best way to get started is to think about what you have a natural interest in and will enjoy researching.  I will never have a drop of interest in computer games or jewellery so I completely avoid them.  It's impossible to be an expert in everything so stick with what you will enjoy and focus on that at first.  That way you can walk around a car boot fair or a charity shop and direct your attention rather than wandering around trying to look at everything.
It could be anything from men's clothing to plush toys, I know several resellers who have successful businesses only selling in these areas.
Wrap Up & Final Thoughts
An amazing story and some great golden nuggets of advice in here. Thank you Louise for sharing your journey with us.
For me the key takeaway from this Spotlight is Louise and her husbands decision to cut down on debt and build wealth. Sounds like they have a great understanding and working relationship. Having someone by your side supporting you as you try to go it alone can be a tremendous help.
Please go and follow Louise here on Instagram @IndieChickEscapes
I would like to wish Louise all the very best for the future and hope her reselling adventures keep on growing.
Related posts:
If you want more and even some exclusive side hustles and ways to start a healthy side income stream then jump on the newsletter!