I am really pleased to start the spotlight interviews back up again and this one is superb. If you want to learn how to sell vintage items on Etsy then this will be right up your street.
We often think of resellers as people who simply buy stuff from charity (thrift) stores and sell them for profit on eBay.
Is eBay the best marketplace for everything? Absolutely not, as Jason here will show us.
He has proven and somewhat mastered the art of selling items on Etsy for amazing profits. Profits that he would not have got had he sold them on eBay instead.
In fact on some occasions he even buys stuff from eBay then sells it directly on his Etsy store scooping up more profits.
Reselling is a side hustle that I have mentioned time and time again here on the blog. In fact, I will stick my neck out and say it is the "King of the Side Hustles" because you are in total control of it. You can scale it however you want. You can spend as much or as little time on it, and in many ways, it can be considered "fail-proof".
If you know what something sells for then you know your bottom buy price.
You just need some time and motivation to do it!
For more inspiring side hustle related interviews, check these out:
Ok, so let's dive into this interview with Jason. We met over on Instagram and he has taken the plunge into reselling full time now. This is a really motivating talk for anyone who is thinking of getting involved in this. I was particularly interested in the way he sets up selling his vintage items on Etsy.
As I mentioned you can start this off with a relatively modest budget and just a few hours per week to begin with and scale it as much as you want!
Interview With Jason AKA @Jason_Reselling
(Me) Tell us a bit about yourself. How did you get into reselling and when did you make the switch to go full time?
(Jason) Hi John, thank you very much for asking me to take part in your blog.  About me, I'm Jason, I live in Northwest England with my wife, two children, a cat, and a dog.  When I left school I never really knew what I wanted to do, I went to college for a couple of years and I kind of fell into a mundane job in the civil service.  I worked there for quite a number of years but I was always looking for an escape.
I'd had a personal eBay account since 2004, then when I was looking into self-employment ideas I came across the eBay business handbook which inspired me to try reselling.  I read how the author went to car boot sales to buy items to resell, so I thought I'd try it.  The first time I had no idea what I was doing. I went late when people were starting to pack up, bought a decanter for £3.50, took some terrible photos, put it on eBay on a 7-day auction, and was amazed when I made £20 profit. That was the start.
From there I bought and sold just as a small side income. But in 2017 I was told the office I was working in at the time was closing.  I decided this was the time to give reselling a go full-time. I handed in my notice in October, and I haven't looked back.  It was a steep learning curve and not all plain sailing, but there is a great reselling community on Instagram to who I'm very grateful for all their help and advice.
Another great community, full of side hustles and like-minded individuals is the Side Income Tribe on Facebook! – JOIN HERE!
Etsy vs eBay?
(Me) I notice you sell a bit on Etsy too, this is brilliant. What made you go down that route?
(Jason) When I started reselling I sold clothes, toys, DVDs, CDs, anything and everything, but I was always drawn mostly to vintage and collectibles.  At first, without much knowledge I just had an eye for them, now I've really niched into this area.  I think I have to thank my Mum for taking me to jumble sales and flea markets when I was young. She would always buy cut glass and it must have rubbed off on me.
I started following more vintage sellers on Instagram and I noticed they sold more on Etsy so I decided to give it a go. It really has been a game-changer for my business to the point now where my Etsy turnover is overtaking eBay.  It really is the ideal platform to sell vintage.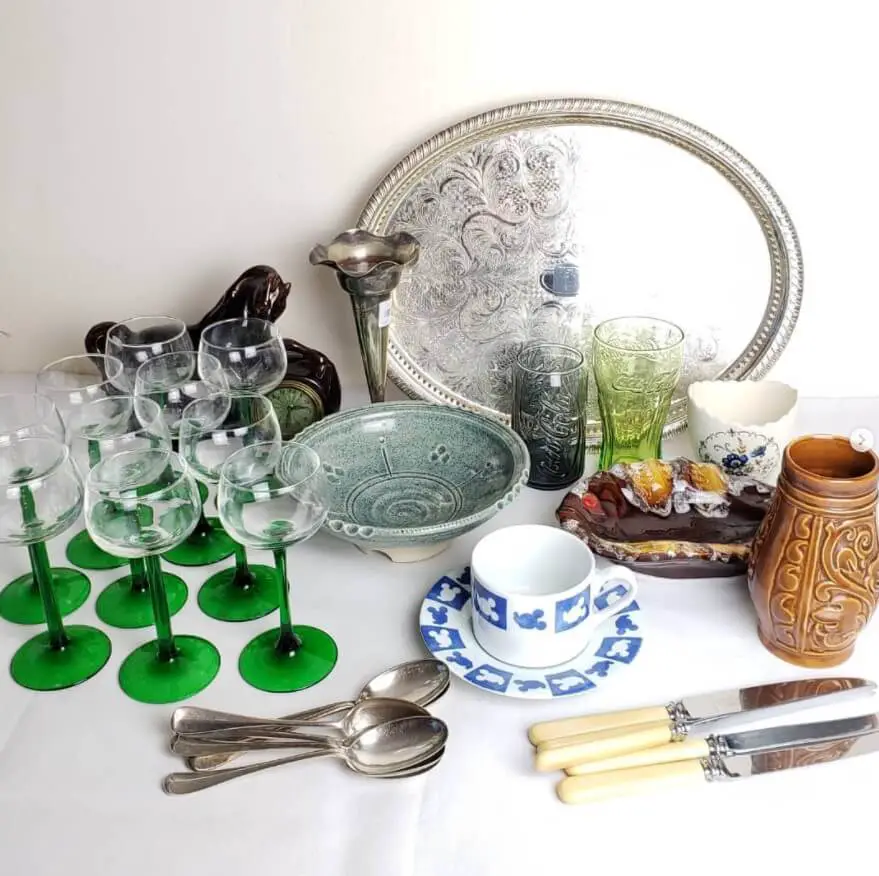 (Me) Is Etsy straightforward? Can you sell anything? Are their fees etc like eBay?
(Jason) Etsy is similar to eBay but you can only sell vintage (over 20 years old) or handmade items.
Etsy fees are slightly different. Being an American company fees are in dollars and converted to pounds using the current exchange rate.  There is no shop subscription fee like on eBay. It is just a flat $0.20 (about 15p) fee to list your item for 4 months or until it sells, hopefully, the latter!  When your item sells there is a transaction fee which is 5% applied to the total sale price including postage, then there is a payment fee of 4% + 20p, and also an operating fee of 0.25%.  Last but not least there is 20% VAT on the total fees.  It seems complicated but I find it easier to think of it as 9.25% + 35p + VAT.
(Me) Do you advertise or promote your Etsy store anywhere?
(Jason) Currently no, although I have set up a separate Instagram account for this purpose, so it is in the pipeline.
Etsy also offers offsite promotions. But if you make a sale through this there is an additional 12% charge so I have opted out.  Controversially Etsy has made offsite promotions compulsory if your takings are over $10,000 in the last 12 months so this is worth considering when starting your shop.
(Me) What about sourcing? Where do you source for your stock?
(Jason) I think it is good to have a variety of sourcing opportunities.  When I started I quickly got the auction bug, I found a great local auction house where I used to get the majority of my stock.  Unfortunately, since covid, the auction has moved online and the prices have gone up about fivefold no longer making it viable.  I still buy odd bits from the auction but nothing like what I used to. I miss the excitement of bidding in the room, it isn't the same online.  
Luckily, there is also a great local car boot sale that I go to every weekend weather permitting March through to December.  I try to buy enough stock to last me through the Winter close season. I will also top my stock up with charity shop finds. 
Another great place for stock is eBay itself, it is like a giant car boot sale and if you look hard enough you can find some amazing bargains.  I regularly buy items cheaply from eBay and sell them on Etsy for profit so the opportunities are there.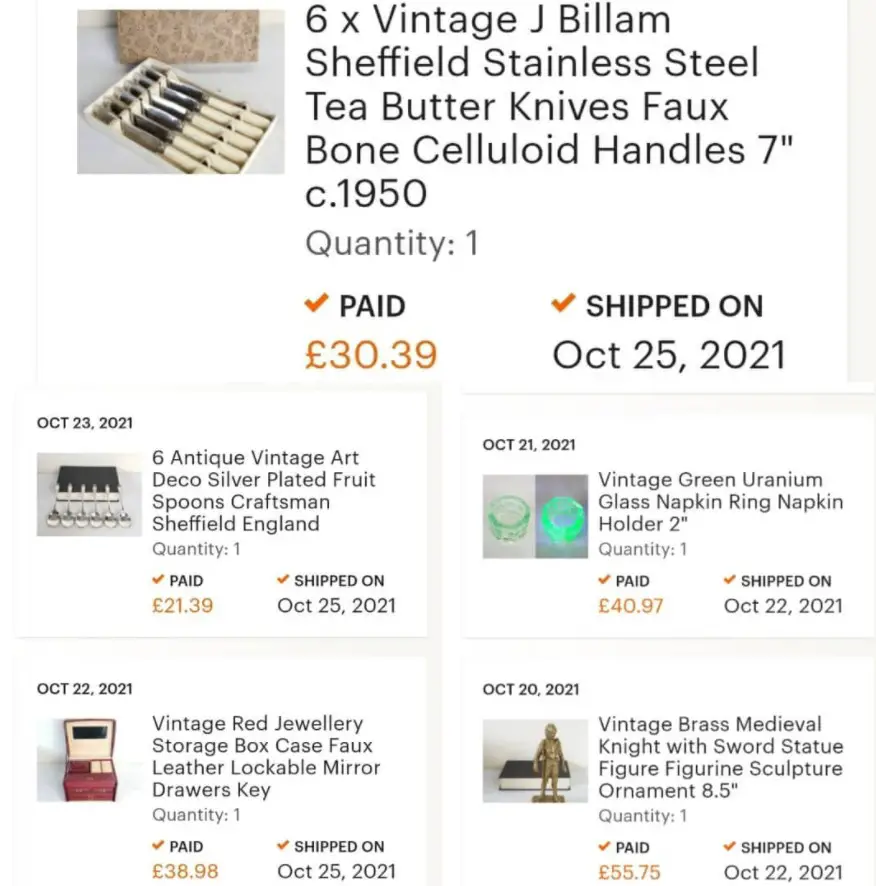 (Me) What's been your favourite sale to date?
(Jason) Last year I sold some vintage wallpaper and received a lovely message from the buyer. She explained how they loved their living room wallpaper and had searched without success for 10 years for it so they could match it in their dining room.  They had almost given up and were going to redecorate both rooms but they couldn't believe it when they found my listing and could finally decorate the room the way they wanted 10 years ago.  They even sent me a picture of their room decorated with the wallpaper.  It was such a heartwarming story.
Any Tips For New Vintage Sellers?
(Me) . I always like to end with a tip. What's your number one tip for people looking to start with selling vintage items on Etsy?
(Jason) If you are interested in selling vintage items or already do just give it a go!  What have you got to lose?  It is similar to eBay in you need to source good products. You need to list consistently, take good photos and, have good titles, descriptions, etc.  I also think there is more potential with Etsy in the UK. It's not as saturated as eBay and customers are becoming more aware of it.  Overall I also think Etsy customers are more interested in getting the item they want, whereas on eBay customers can be more looking for a bargain which is why you can achieve better prices on Etsy. 
I would also say get involved in the reselling community, you will learn so much from other sellers, and make good friends along the way. My only regret with Etsy is not trying it sooner!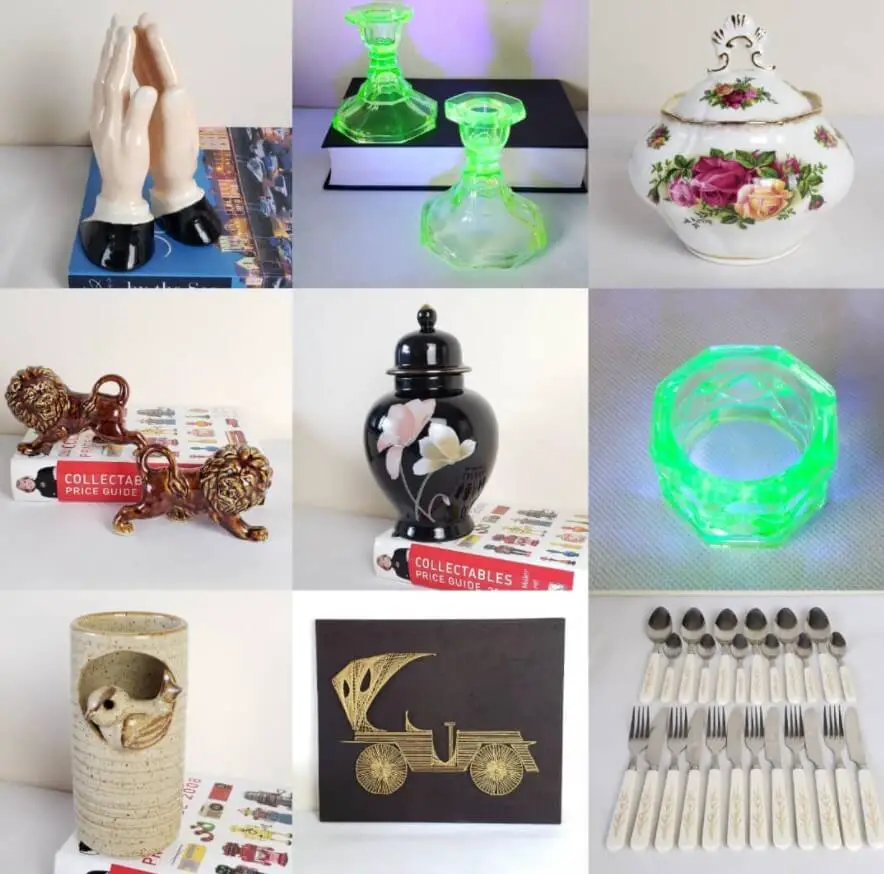 Final Thoughts
Massive thanks to Jason for sharing his insights into selling full time and especially on Etsy. It is a platform in which general vintage items tend to be appreciated and therefore often sell for higher prices.
Sometimes, as resellers, we need to broaden our niches a little. I always say start off with the basics, such as clothes, trainers, games, etc but then as you gain the confidence you can enter into the vintage niches. The returns can be plentiful and I would expect the sourcing could be a little more fruitful too.
Also as Jason says himself "So much variety selling vintage, never gets boring."
He has shown what is achievable and with some dedication and learning your craft what can be done.
This is fantastic, the fact that he can now go out, source and flip for profit and provide for his family is amazing.
I take my hat off to him. Cracking stuff.
Be sure to follow Jason on Instagram – you can do so here. He often shares pictures of his lots which can really help other vintage sellers on what to look out for.
This sharing of knowledge is a great thing in general about the reseller community and Jason is a strong part of that.
Thanks again to Jason, all the best to you and your family.